Disclaimer - This website contains affiliate links. I earn a very small commission if you make a purchase using my links, which I'll probably spend on outdoor gear and more houseplants.
Search Engine Optimisation (known as SEO) is one of the best ways of getting your website or business found by more people online.Most businesses these days have a website, and appearing top of a Google search is one of the best ways to get yourself in front of new clients. But many business owners are guilty of the "if you build it they will come" attitude. They build a website and hope that people will find it. But in reality, getting your website high in search results isn't just a one-time job. It requires consistent, ongoing work. SEO optimisation is not something that provides results overnight; it's an ongoing process that takes time to filter through. Today I want to talk about three SEO mistakes that I see business owners making.
3 SEO Mistakes That Could Be Hurting Your Search Ranking
How many times do you go past page 2 or 3 in Google search results? Getting on page 1 of a Google search means your website is in a prime position for getting new traffic. But getting to this coveted position requires a basic knowledge of how search engines rank your website in order to optimise your site. Search engines rank pages, not websites. They use a process called "crawling" to analyse the content on your site, and as well at looking at the overall structure of your site as a whole, they look at individual pages and the content on them. They will look for keywords, images, headings and sub-headings, meta descriptions and alt tags as well as how often new content is being published on a site. By failing to address all of these things, you are likely to rank lower.
Mistake #1 – Keyword Stuffing
The complexity of SEO has changed a lot in the last 10 years. It used to be that getting a page to rank for a certain keyword meant using that keyword in the text on a page as much as possible, for example:
Looking for an Iceland wedding photographer? Our studio have been Iceland wedding photographer's for 10 years, photographing Iceland weddings for couples from all around the world. Get in touch with us today to book your Iceland wedding photographer.
But as Google has become more sophisticated, it now sees pages where keywords are stuffed in to the text as spam. Instead, it favours organic, flowing text that reads naturally. This means you need to create engaging content that features your keyword naturally, and doesn't repeat the same keywords over and over again.
Mistake #2 – Image Optimisation
As a photographer as well as a blogger, I know that desire to show images in their best form. We want them to look crisp and sharp to potential clients, so we upload them to our websites as larger files. Have you ever visited a website and left because it was taking too long to load? I know that I have. Search engines register the amount of time someone spends on your website. If someone arrives on your website and leaves again quickly, this will affect your bounce rate, which in turn affects your SEO ranking. Even if your pages don't seem like they are slow to load, search engines register page load speed times, and pages that load more quickly are more likely to be given a higher ranking. For photographers, that does mean losing some image quality if you want your site to rank higher.
The other SEO mistakes that many website owners make with their images is not just their size, but also the image titles and alt tags. Just as a page should have a meta description, images should have what is know as alt tags (also referred to as alternative text, image tag, alt attribute). An image alt tag should describe exactly what the image is. These alt tags are used when an image cannot be displayed, or when a visually impaired person is using a screen reader. Search engines analyse the alt tags to gain more information about a page, to determine the relevance of the content, and to understand what is in the images being displayed, and penalise pages that have missing or duplicated alt tags.
Here's an example of a good alt tag: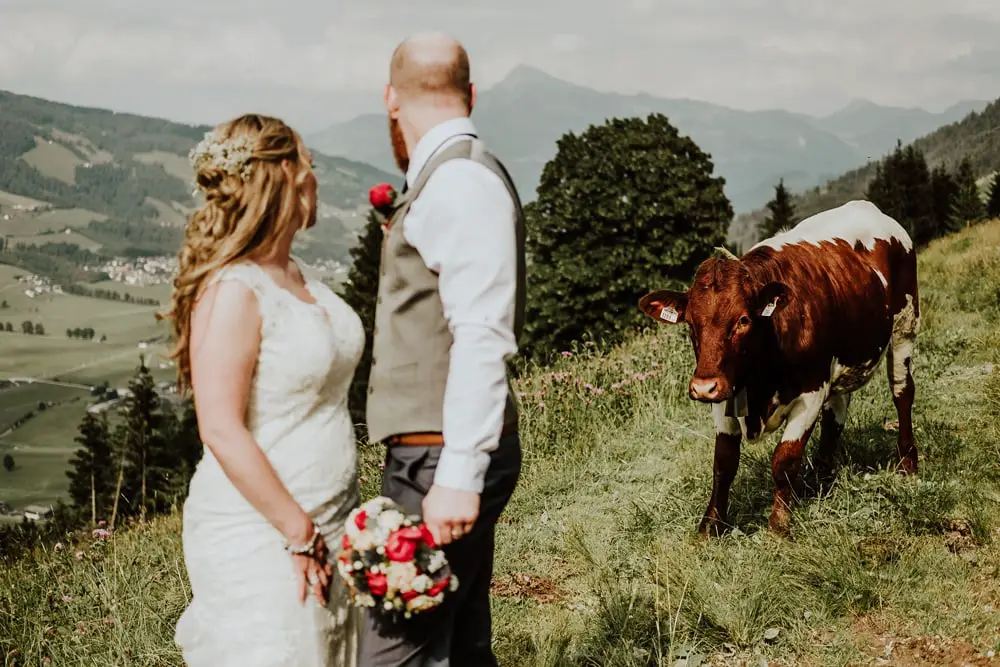 Alt Tag: A cow approaches a bride and groom standing in a mountain meadow in Austria by Wild Connections Photography
Mistake #3 – Not Blogging Regularly
Gone are the days of creating a killer homepage and putting it out there for people to stumble upon. To rank highly, search engines need to see that your website is being updated with fresh and relevant content on a regular basis. Publishing 5 posts in a week and then not posting anything for 2 months is less beneficial than posting once a month, every month. The more often you can post, the better, although it's definitely a matter of quality (and consistency) over quantity. Blogging for the sake of blogging alone will not help your ranking. You need to be creating quality content that is engaging and relevant to your readers. Plan days to create and schedule content in advance if you know you're going to be too busy to do it during the high season.
***************************
Want to receive updates about future business-related posts and events? Sign up below to be kept updated about the Adventure Wedding Academy.