Does Your Contract Cover Adventure Weddings?
Disclaimer - This website contains affiliate links. I earn a very small commission if you make a purchase using my links, which I'll probably spend on outdoor gear and more houseplants.
In a previous post I went over what should be covered in a wedding photography contract. But if you are shooting adventure weddings or elopements and accompanying couples to more remote locations, a basic photography contract isn't enough to protect you. You need a specific adventure wedding and elopement contract.
Disclaimer: This blog post does not constitute legal advice. It is intended to give general information about the potential legal issues photographers can face in the niche of adventure weddings and elopements. If you are unsure about the legalities in your country or state, I recommend consulting with a lawyer. I also recommend making sure you have sufficient liability insurance to make sure you are protected as much as possible.
What Should Be In An Adventure Wedding/Elopement Contract?
If you are shooting adventurous weddings and elopements, you are possibly doing some (or all) of the following:
– Recommending locations to clients*
– Accompanying them to locations that are remote or with potential hazards
– Undertaking an activity where injury could occur
*On a side-note – depending on where you are based, and which countries you do business in, it is important to check how you describe the additional services that you offer on your website and in your contract. For example, I have to be careful how I talk about the planning assistance that I offer to my clients because I'm not legally allowed to offer wedding planning services under my registered profession as a photographer. I also recommend being cautious of referring to yourself as an "elopement guide" as the term guide is a protected profession in some European countries and can only be used by people with official guiding accreditation. If you are unsure, consult a lawyer and find out the laws of the countries where you are planning on working.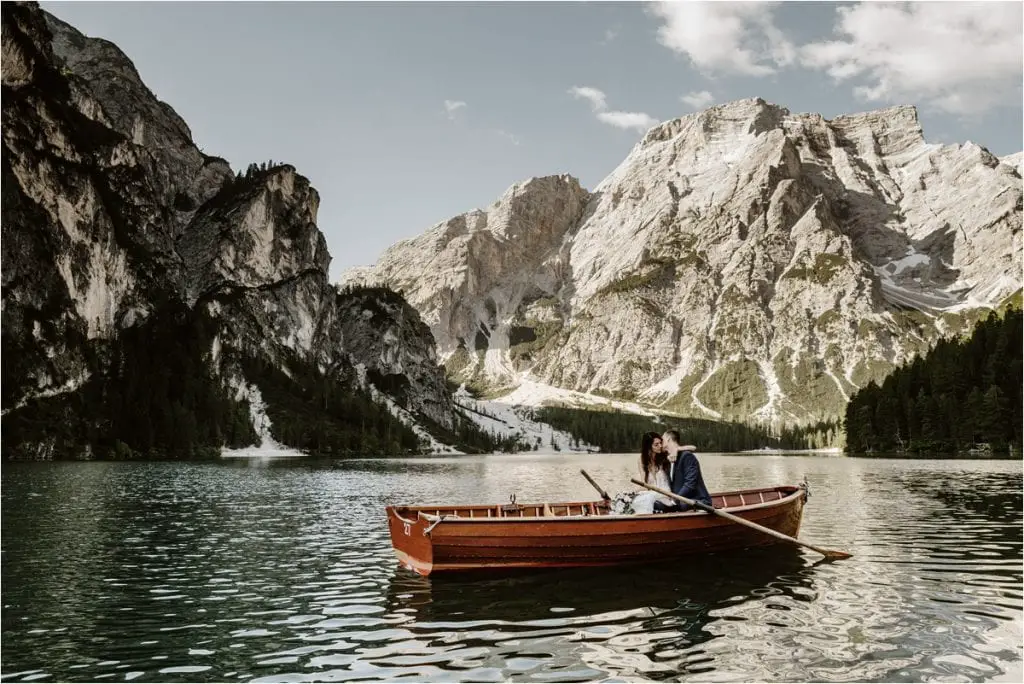 What Could Go Wrong?
These could be issues such as:
– Clients getting injured
– Trails you suggested are closed
– The location that you suggested is inaccessible or unsafe
– The clients are not as fit as they suggested and cannot safely travel to/from their location
I've had issues in the past with trails being closed because of heavy snowfall, ski resorts being closed due to high winds, locations becoming much more crowded due to increased social media popularity, to name a few. These are all scenarios that have the potential to lead to client complaints and requests for compensation, despite them being completely out of your control. And that's why it is really important to make sure you cannot be held liable for anything like this, should something unfortunate happen.
How Can I Protect Myself?
How can you cover yourselves for instances such as these on your contract? You need to make sure the following clauses are in your contract:
Limitation of Liability
This section is usually broken down into a number of sub-clauses to cover a variety of topics, including the following:
– If you are suggesting locations to your clients, you need to make it clear that you have no liability for the locations suggested. The clients are responsible for researching the locations and being aware of all legalities and logistics involved.
– What happens in the case that you cannot attend their wedding – including, but not limited to in the cases of sickness, travel restrictions, natural disasters and force majeure. Whilst you might have a similar clause to this in your standard contract, this should be expanded for destination and adventure weddings and elopements.
Assumption of Risk
If the clients are undertaking any kind of physical activity or you are travelling to remote locations, it is important that clients are aware and accept the risks involved. You should be covering that:
– Clients are responsible for their own safety, well-being and insurance and are aware of all the risks involved.
– Clients acknowledge that any activities are within their ability and fitness level and that they are doing them voluntarily and at their own risk.
– Clients are also responsible for informing any guests or other vendors of the potential risks involved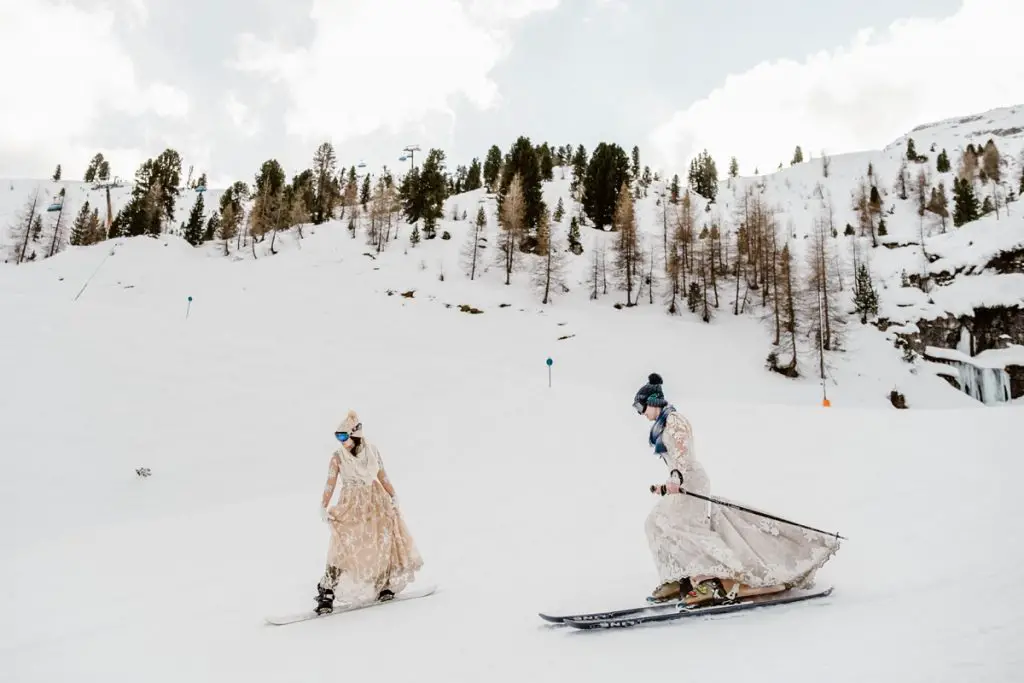 Sending Contracts
Sending contracts to clients shouldn't be time-consuming. I recommend having your contracts saved as a template where you can simply edit the small details relevant to the clients before sending.
These days it's fine to have clients sign things digitally too, so no more needing to send out paper. I have everything set up in my CRM which is called Dubsado, which I highly recommend.
Need Help?
You can now buy a copy of my Adventure Wedding Photography Contract directly in the online shop. This contract has been checked by lawyers and is a great starting point if you are moving into the niche of adventure weddings and elopements. The template covers the following clauses:
Description of Services

Price & Payment Terms

Travel Fees

Cancellation Terms

Rescheduling Terms

Copyright & Image Use

Artistic Style

Client Responsibilities

Limitation of Liability

Force Majeure

Assumption of Risk

Location Disclaimer

Editing Style & Limitations

Delivery of Images

Handling of Digital Data

Storage & Archiving of Images

Harassment Clause

Governing Law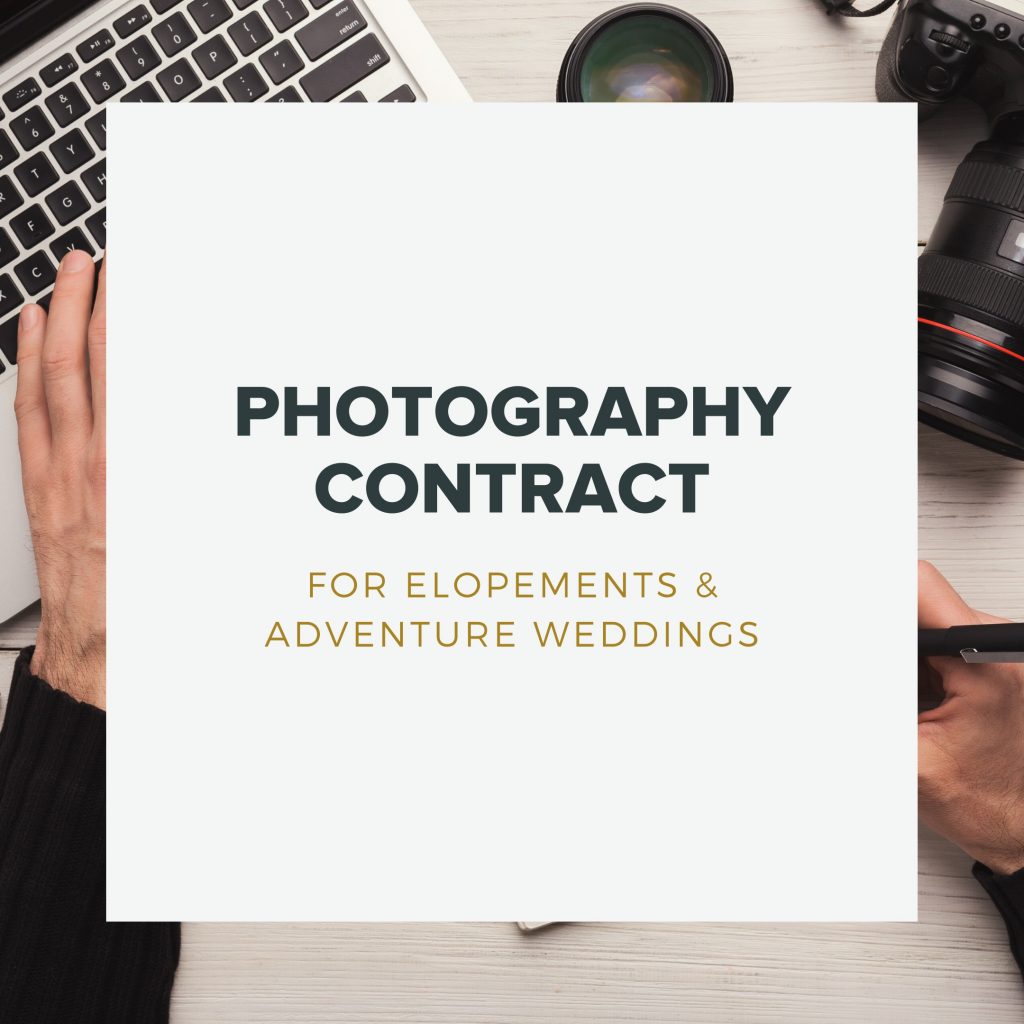 Adventure Wedding & Elopement Photography Contract
As a photographer, adventure weddings open you up to a new world of risk and liability issues that you wouldn't encounter with a more traditional wedding. Which means a traditional wedding photography contract is probably leaving you vulnerable. This template contract will help you to protect yourself better.