Disclaimer - This website contains affiliate links. I earn a very small commission if you make a purchase using my links, which I'll probably spend on outdoor gear and more houseplants.
Do Photographers Need A Culling Software?
Back in the day when I first started shooting weddings, I used to cull and edit everything in Lightroom. It was my workflow and it worked for me. And to be honest, I was pretty resistant to change as I didn't really see the need for an additional piece of software just for culling. But at a conference in 2019, a few conversations and demonstrations sold me on benefits of using a culling software for photographers, and I was convinced to try Photo Mechanic, which was the leading software out at the time. And it hugely changed my workflow – in a good way. Using a culling software that helped speed up image selection in turn helped speed up the entire editing process. And it's been the first step in my editing workflow since.
Culling software for photographers speeds up the culling process, and for many, it's the culling, not the editing that is one of the most time-consuming processes in the post-wedding workflow. Narrowing down sometimes thousands of images to just a few hundred for a final gallery can be a pretty tedious process.
AI Technology In Culling Software
In the last couple of years there have been some incredible advancements in AI technology, and other companies have started integrating this into culling software for photographers to make the process even faster. And since I had a slow start to the 2022 season, but knew it was going to get extremely busy and that I'd need to stay on top of my editing over summer, I wanted to see if there any of these new culling programs could help speed up my workflow even more.
Which Is the Best Photo Culling Software in 2023?
The photo culling software programs that I tested this year, based on some already great reviews from other industry peers, both that use AI technology are AfterShoot, FilterPixel and Narrative Select. All use AI (artificial intelligence) in different ways, which I will go into in more detail below, and I definitely found which I had a preference for, so keep reading to find out which it was.
But before I start with the new kids on the block, let's talk about the old reliable culling software that I've been using for the last few years and have been extremely happy with, Photo Mechanic.
Photo Mechanic was the first culling-specific software that I used after always having previously culled my images directly in Lightroom, and once I started using it, I couldn't believe how I ever culled in Lightroom and didn't have a breakdown waiting for images to load when moving between images & zooming in and out quickly.
Photo Mechanic excels in bulk importing, sorting and key-wording images, and allows you to browse, review and rate images really fast.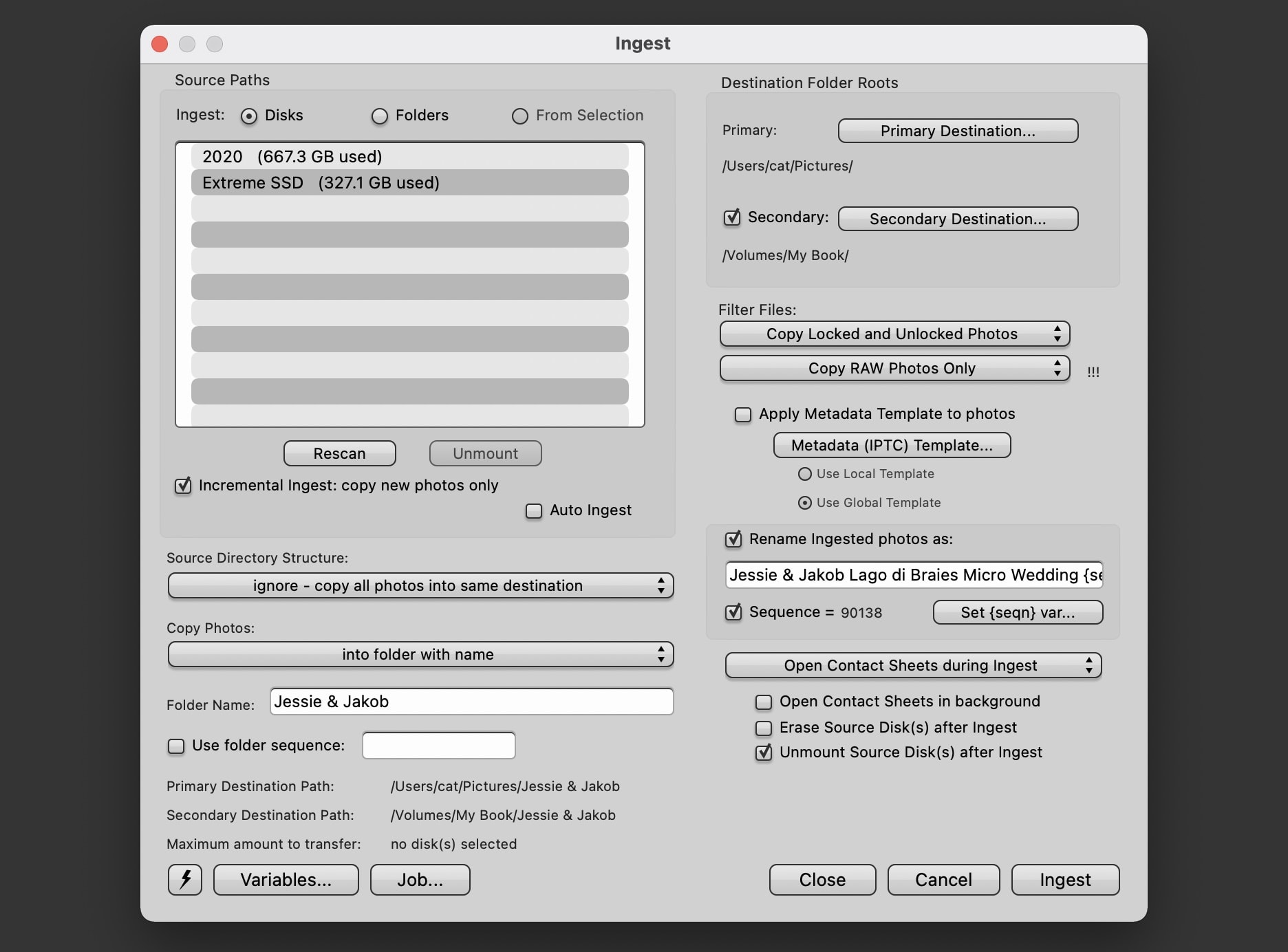 My favourite features of Photo Mechanic:
Rename images on import – this allows me to rename the raw files from multiple cards to a custom name relating to the shoot.

Backup to multiple locations on import – when the images are imported and renamed, they can be set to save in multiple locations, which is an important part of my post-wedding backup process.

Organise selected images into folders so you don't have to import everything into Lightroom.

Import process will tell you about any import errors

Image previews render immediately so you can tell straight away if the image is a keeper
My least favourite things about Photo Mechanic:
Importing can take time if you have thousands of images on multiple cards

You still have to review each image individually when culling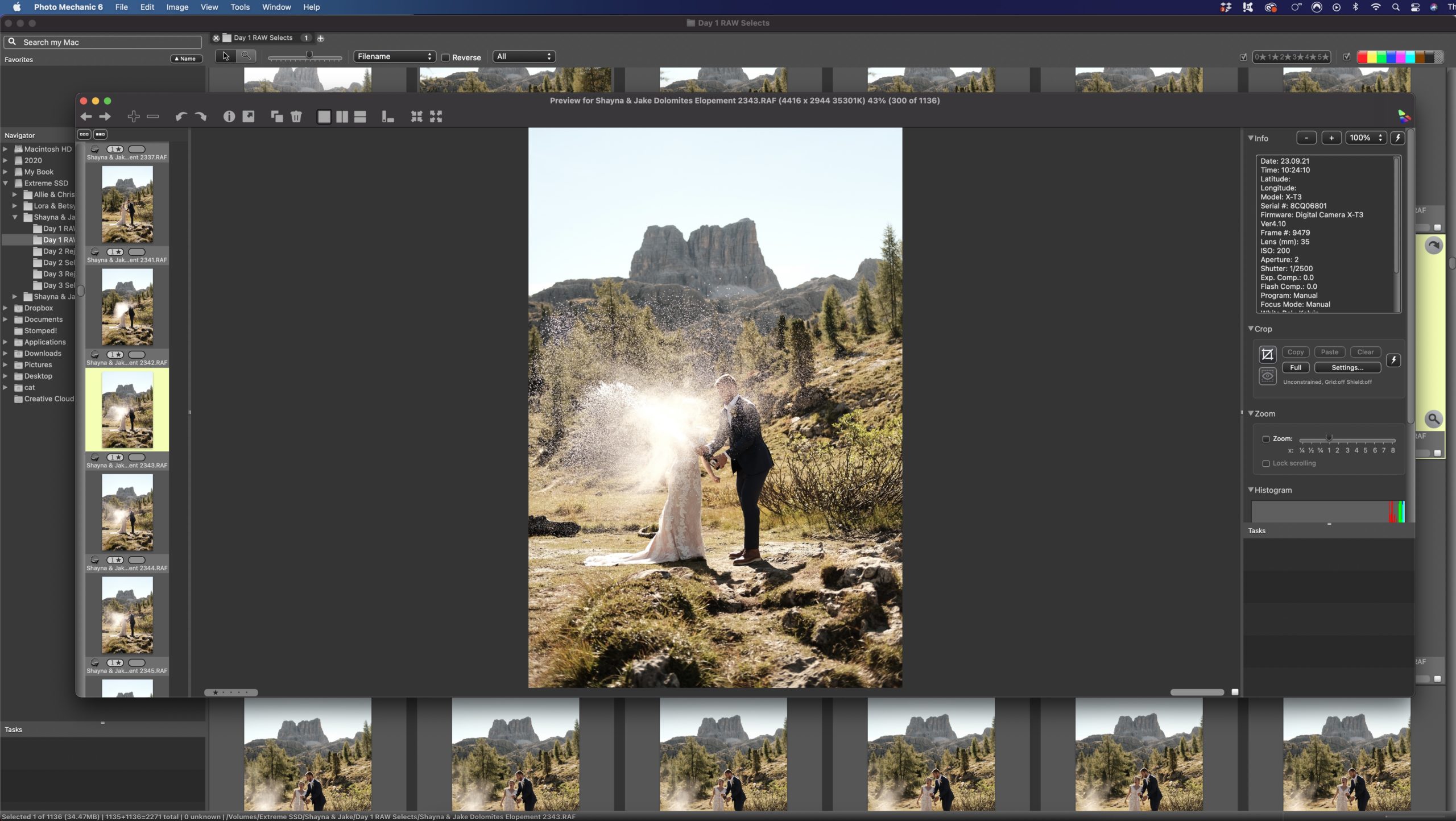 The Price:
Photo Mechanic costs from $139 USD. This is a one-time payment for single license.
AI Photo Culling Software
I came to Narrative Select after trying AfterShoot. It's not full AI culling, i.e. it doesn't make the decisions for you but rather it uses AI to assist with culling by helping you make decisions faster.
After being a little underwhelmed with AfterShoot's results, I was a bit hesitant to try Narrative Select. After all, my current culling system was doing ok and I'm not a fan of changing a workflow that works unless it's really going to benefit me.
My first impressions of Narrative Select were how incredibly fast and easy it was to setup, import my raw files and start reviewing images. By far the fastest of all three.
The software groups images into scenes, tells you if eyes are open or closed and gives the faces a focus score out of 100. It also puts little warning icons on in the corner if it thinks there are better images in a series of similar images. But essentially it gives you the information and lets you make the decisions, which, being the control freak that I am, I like very much!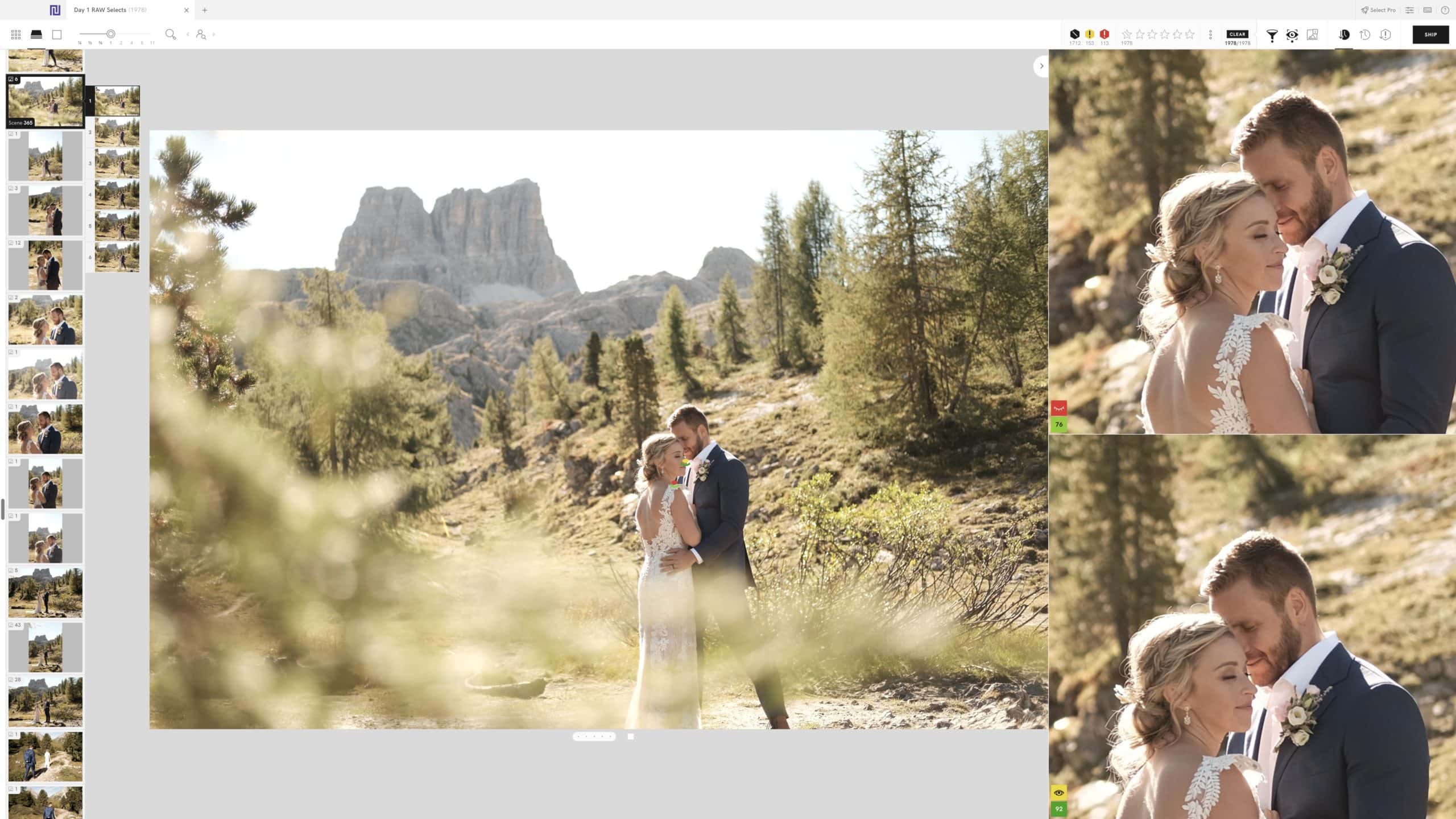 My Favourite Narrative Select Features:
Lightning fast import and image review

Closeups panel for viewing faces

Face assessments tell you the degree of focus/blur and about whether the eyes are fully open, partially open or closed

Image assessments let you see quickly if there are better images in a scene

You have full control over the ratings and selections

My Least Favourite Things About Narrative Select:
Not fully automated AI culling – you still have to cull yourself

Can't re-name or backup files during import
The Price:
Narrative Select is free for 6 projects a month. You can choose to upgrade for a Pro Account if you need additional projects, at a rate of US$150 per year.
Use the code 'adventureweddingacademy' to save 10% on Select Pro
AfterShoot has been making headlines this past year (or at least I've been seeing them a lot), so earlier this summer I decided to test it out for myself after watching a review about it from photographer Sam Hurd and reading some online discussions that gave it a positive review.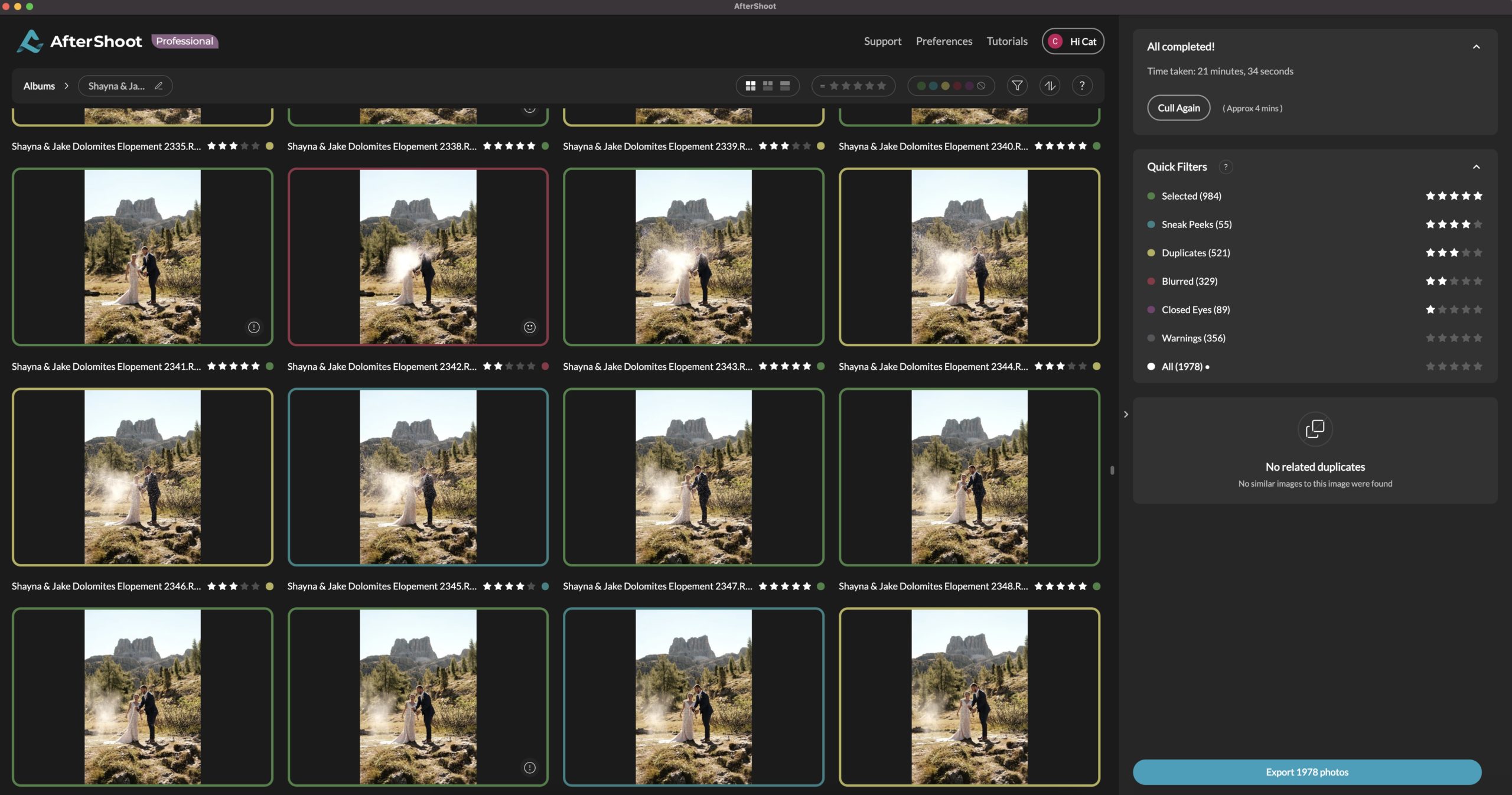 At first impressions, it sounded too good to be true. A culling software that uses artificial intelligence to do the image selection for you.
When I ran my raw files through AfterShoot, it took 21.5 minutes to cull and sort 1979 files down to 1039, categorising and colour-coding the photos into the following categories:
Selected
Sneak Peeks
Duplicates
Blurry
Eyes Closed
Warnings
My Favourite Things About AfterShoot:
Super fast way to sort and identify & cull images into categories

You can let it do an initial cull itself without you having to do anything

Face detection shows if faces are in focus and if eyes are open

It sorts duplicates and selects what it thinks is the best of a set

There is the option to backup images to a second location

My Least Favourite Things About AfterShoot:
On the initial review of the results I was pleased with the selected images, however when I started to review them in more detail, I noticed that there were lots of images selected that I personally would not have chosen due to the lighting situation or body positions and also lots rejected that I would have kept. I found it was fine for typical portraits where it was looking for faces, but many more creative or more abstract shots often got automatically rejected. This then led me to reviewing all of the individual images again and re-culling a large amount of it as I quickly lost confidence in what the software had selected.
Since I tested AfterShoot it has had a major update, and from what I have read, the AI technology does learn and recognise your preferences the more you use the program. So perhaps with more time it will get better, but for now I actually found it took me longer as I was second-guessing a lot of the software's decisions.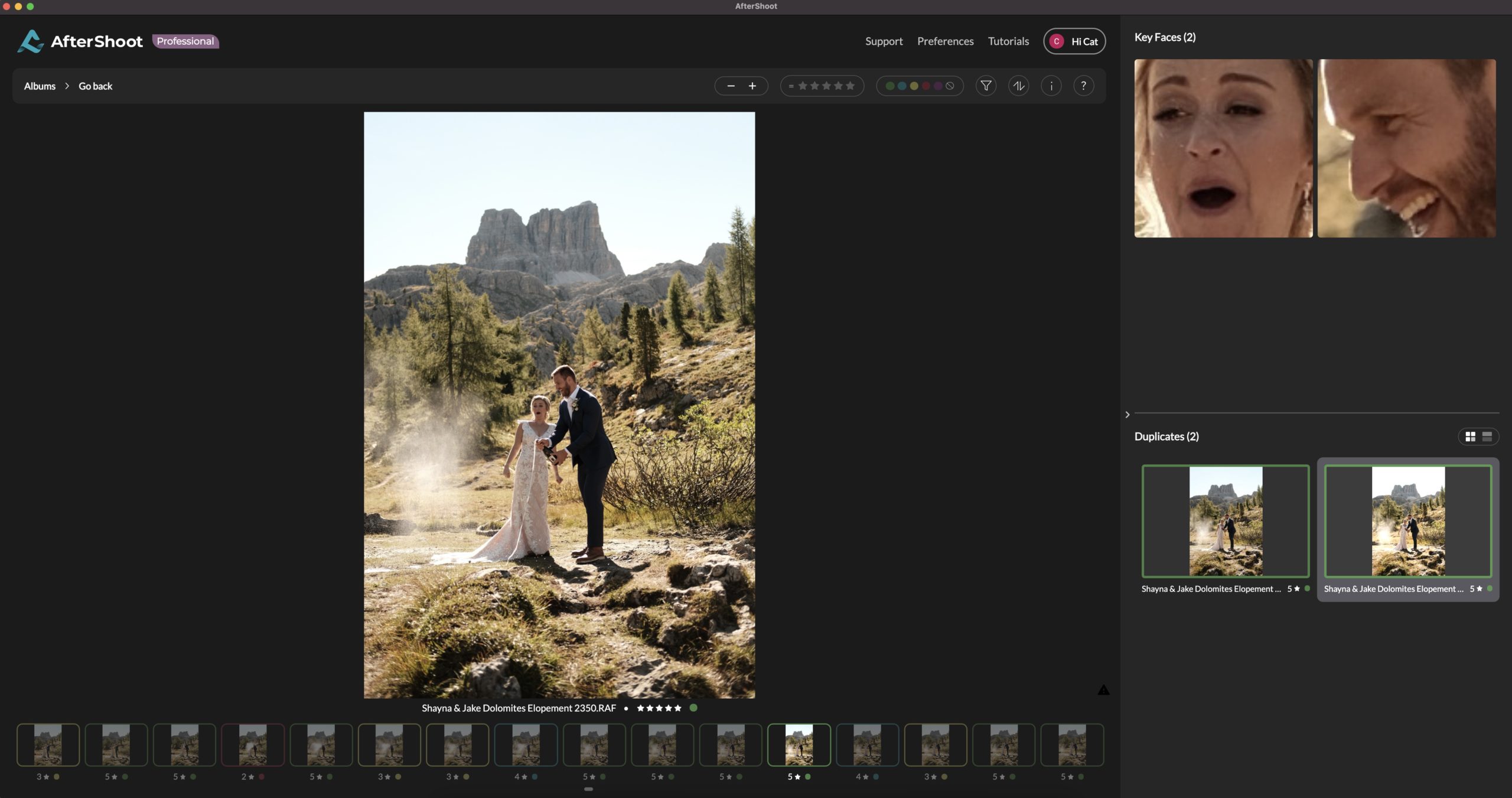 The Price:
For the fully automated AI culling, it costs US$120 a year, however there is a free option for manual culling that still shows blurred and eyes closed warnings.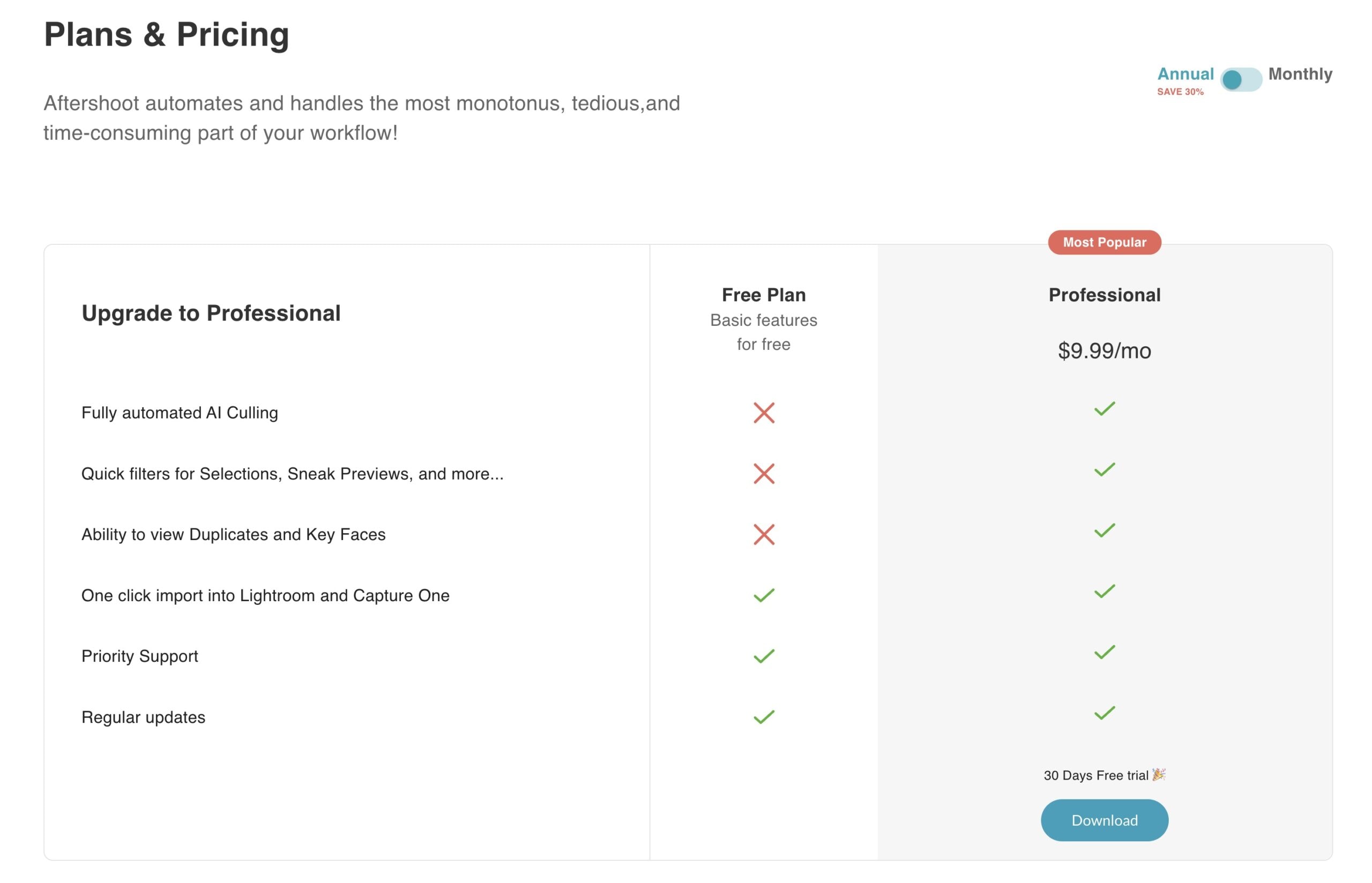 FilterPixel
FilterPixel is one of the newest photo culling software tools using AI technology out there on the market, and this year I gave it a try to see how it worked (and if it worked).
I decided to test Filter Pixel out on a 2-day hiking elopement shoot. Out of 2740 images, it culled the shoot down as follows:
1073 Selected
81 Rejected
1586 Untagged (better alternatives selected)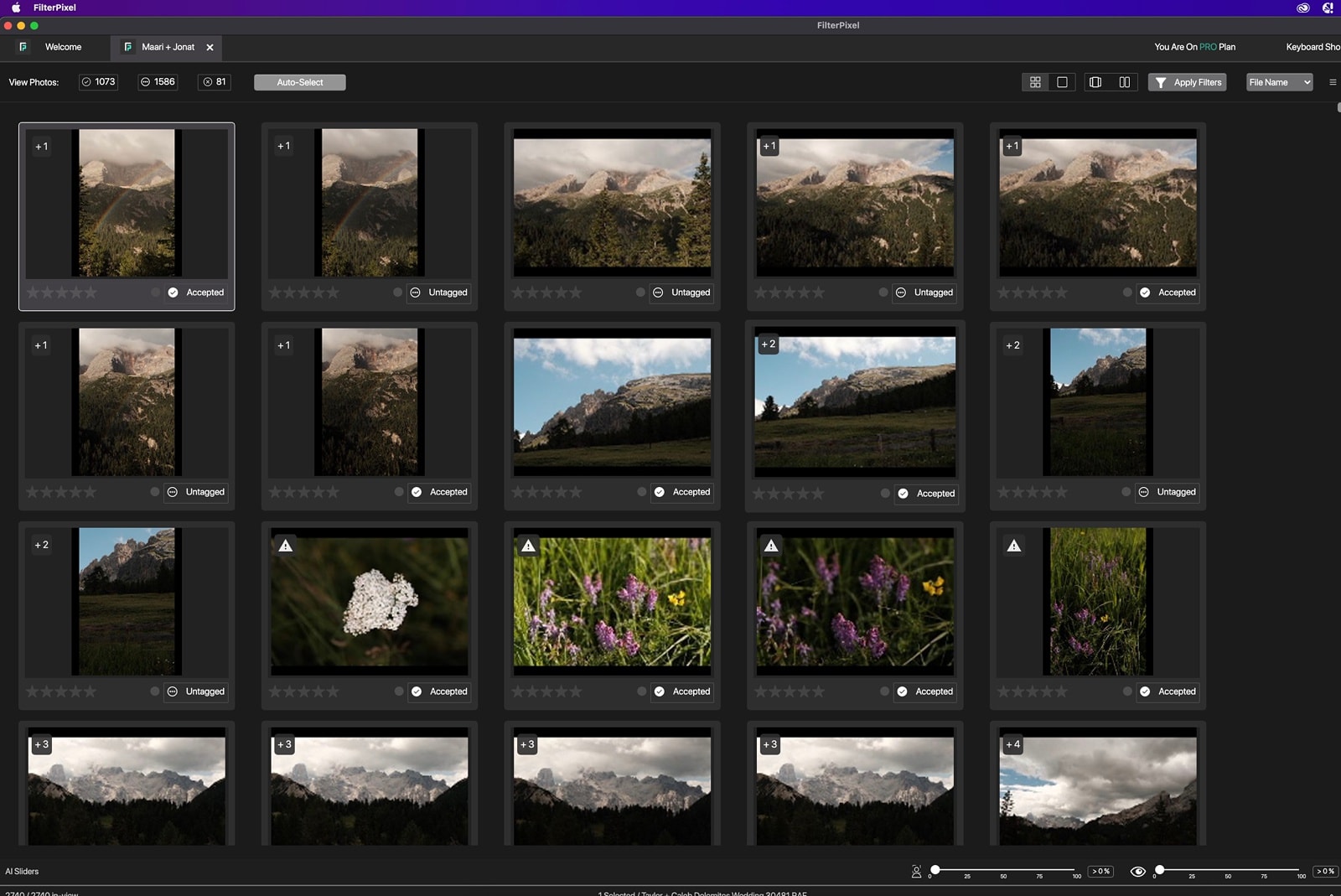 Being someone who is still quite hesitant to trust technology, I wanted to take a closer look at the results.
One thing I was preferred with FilterPixel compared to AfterShoot was the inclusion of what the computer sees as "random" photos – i.e. more abstract images of scenery or details, perhaps with shallow depth of field. When I tested AfterShoot, these images were mostly automatically rejected from a set, but in FilterPixel, they were included when they were unique images. This makes it seem like the AI understands that while they don't show people/faces, they are in there for a reason.
What I loved about FilterPixel:
There was lots to love about FilterPixel.
It look around 17 minutes to analyse and cull the set down from 2740 images

Runs on its own cloud serves so doesn't rely on your machine's processing power

It sorts duplicates which can be easily reviewed

Easy to review the selections and change which images are in the final selection

Option to apply filters for stricter or looser culling rules

Export options to Lightroom, Capture 1 or Photo Mechanic
What I Didn't Like:
While I liked that FilterPixel grouped images from the same scene together and selected the what it thought was the best one, I didn't always agree with it's choice. While the AI may be great at recognising eyes closed or open, it didn't seem to always know when an expression was unflattering. In the example below, the image it chose certainly wasn't one I would have selected, since the bride has a slight double-chin in that image but doesn't in image 3.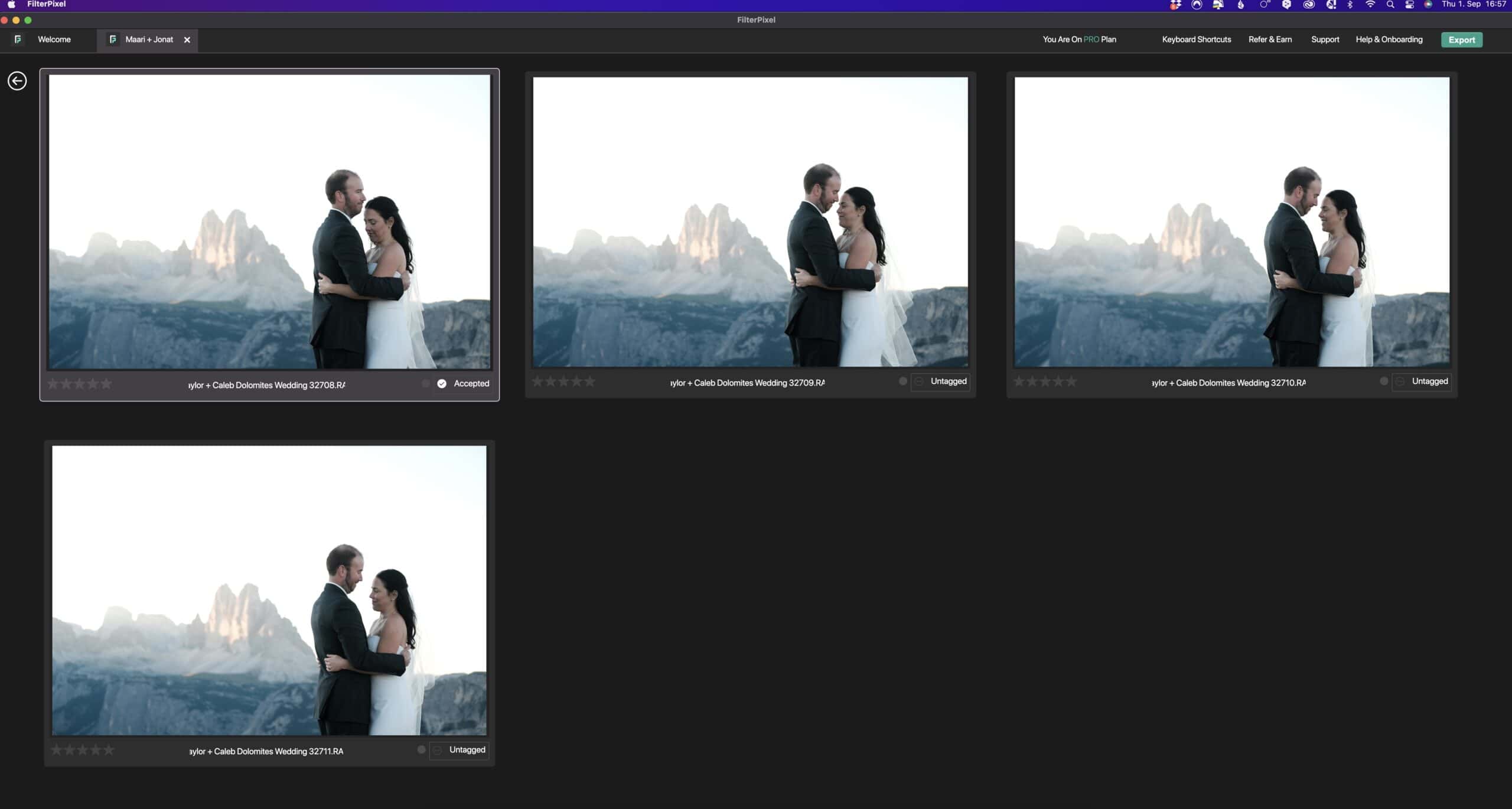 The Price:
FilterPixel has a free plan, as well as a free trial of their Standard and Pro plans, which are available in monthly or annual plans.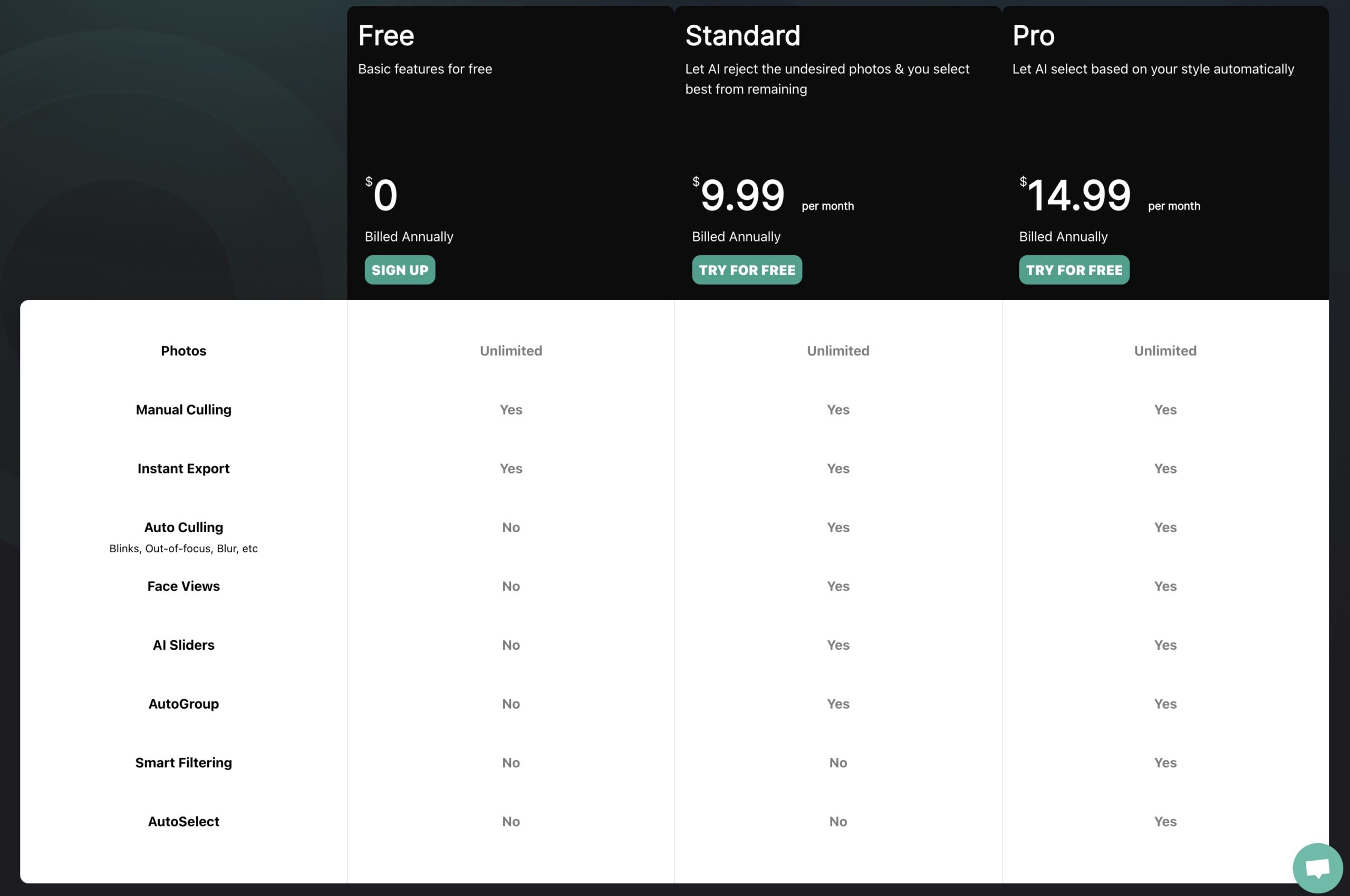 Which One Should You Buy?
This is a tough one to answer, as there are photographers out there who are huge fans of each and every one of these programs, and who have successfully integrated them into their workflows. Five years ago I would have told you that you don't need culling software. And sure, you can do the job without it. But I don't know why you would want to. When you start using one and you realise how much time you can save and you'll NEVER want to cull in Lightroom ever again.
I really wanted AfterShoot & FilterPixel to work and to be so smart that they knew exactly which images to select, but the reality is, you still need to give everything a second look because it takes time for the AI to really learn what you want, and even then you may still find yourself wanting to give everything a look over. I found myself going through almost every single image again anyway, so in the end it didn't really feel like it had saved me time.
The main function I miss in all of the AI culling programs that I have in Photo Mechanic is the renaming and backing up images as part of the initial import. At this time I'm currently still doing this in PM before importing my raw files into Narrative Select to make the initial cull but I may find a workaround in the future.
Photo Mechanic is still a part of my workflow (I already have a license and it's a one-time purchase unlike the others), but I really enjoyed using Narrative Select and I will continue to use it going forward – especially since you can do a lot on the free plan. I found it quicker to cull through individual images than in Photo Mechanic because I could instantly see the closeup panel, and with the added bonus of the face assessments, it just made everything so easy to make a quick judgement.
Related Reading