Disclaimer - This website contains affiliate links. I earn a very small commission if you make a purchase using my links, which I'll probably spend on outdoor gear and more houseplants.
When it comes to getting bookings, I can't believe how many people are still paying so much money for advertising and completely neglecting their SEO. Because while you can pay for Google Ads, you can get found through organic search traffic without spending huge amounts of money. In this blog post I'm going to share the best SEO resources for photographers and wedding planners. So you can help increase traffic to your website and start getting more bookings through Google without paying for them!
On-Page Optimization
Yoast SEO WordPress Plugin
The Yoast SEO Plugin for WordPress is one of the best tools out there for optimising your pages and posts for your chosen keywords. And the best thing is that the free version is more than enough to get the job done.
ShortPixel-Image Optimisation
Wedding websites almost always are image-heavy and slow. ShortPixel is the best tool I've found to compress and optimise the images on my websites without compromising quality. (And in case you're wondering, they also run them through JPEGmini when I export).
Use this referral link for 100 free credits: Get 100 Images Optimized FREE
SEO Research Tools
A great SEO strategy is not just about optimising your homepage for your target keyword. If you want to play the SEO game and win, you need a strategy that covers a number of different areas including on and off-page optimisation, keyword and competitor research.
Link Building & Analysis
Link building is a key component in a well-rounded SEO strategy. Building high quality backlinks to your website is one of the ways of helping improve your Domain Authority and tell those Google bots that your website is worth visiting.
Moz
I use Moz to check my own domain and page authority, and that of competitor sites via the Google Chrome plugin. At the moment I just use the free plan, but if you're planning some more detailed research, you can sign up for a free trial of Moz Pro.
SEMRush
SEMrush has a tool that audits your site and checks your existing backlinks to make sure there is nothing there that's hurting your rankings.
SEO made easy! Audit your site, discover backliere!
Keyword Research
Before you spend hours writing and re-writing pages and blog posts on your website, it's important to do some thorough keyword research to see what people are actually searching for. Lots of photographers will happily spend hours trying to optimise their homepage for "Adventure Wedding Photographer" but may well find that no clients are actually searching for that term. The same might be said for the term "Destination Wedding Planner". So spend some time doing your research and learn what people are actually searching for. Ideally you want to target keywords and topics that are specific and niche enough that you get real, qualified leads coming through but not too niche that nobody is searching for them.
Some of the best keyword research tools I've found include:
Answer The Public
Answer the Public is another one of my favourite tools for researching topics for headings and subheadings for blog posts, as you can find out all of the things people search for related to a particular topic. I've used this to get cornerstone content blog posts ranking highly in SERPS. There is a free version of this which can give you a great head start, but the Pro offers even more features.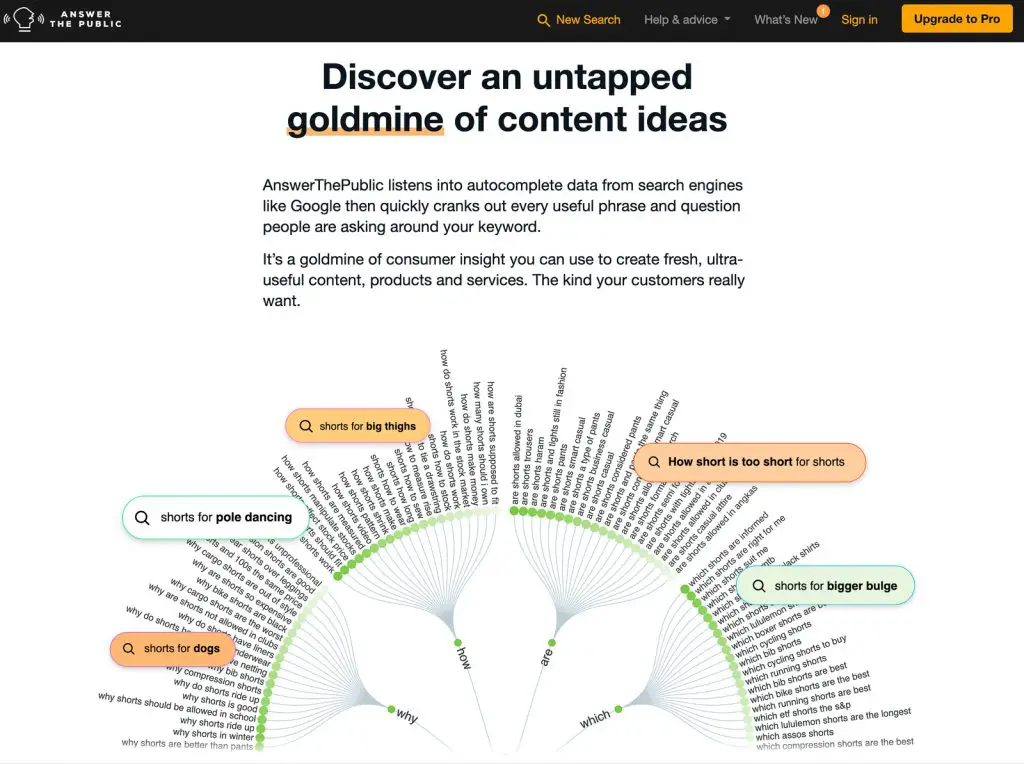 Keywords Everywhere
Keywords Everywhere is one of the few tools that used to be free and is now paid. But it's not expensive and absolutely worth the money. I use the Chrome Plugin to generate data on search volume, cost per click, competition and 12-month trend.
If you want to learn more about keyword research here's a free mini-course: Keyword Research Course With Greg Gifford
Competitor Analysis
A huge part of rising to the top of the rankings is analysing what your top competitors are doing. Instead of just looking at how pretty your competitors website it (come on, we've all done it), tools like the one below actually analyse them so you can learn how they are ranking above yours (and therefore what you need to do to rise above them):
SEMrush
SEMrush has so many incredible functions, I could probably dedicate a whole blog post just to them. But one of the things I really like them for is their competitor research function.
SEO Courses & Training
If you're not quite up to date with your SEO knowledge, then I highly recommend taking a course to get up to date. Even outsourcing your SEO without a good basic understanding can be money down the drain if you don't know what you need people to do for you. And unfortunately there are a lot of scammy and low-quality SEO services out there, so you need to be able to spot the experts.
Best SEO Course For Photographers
Fuel My Photos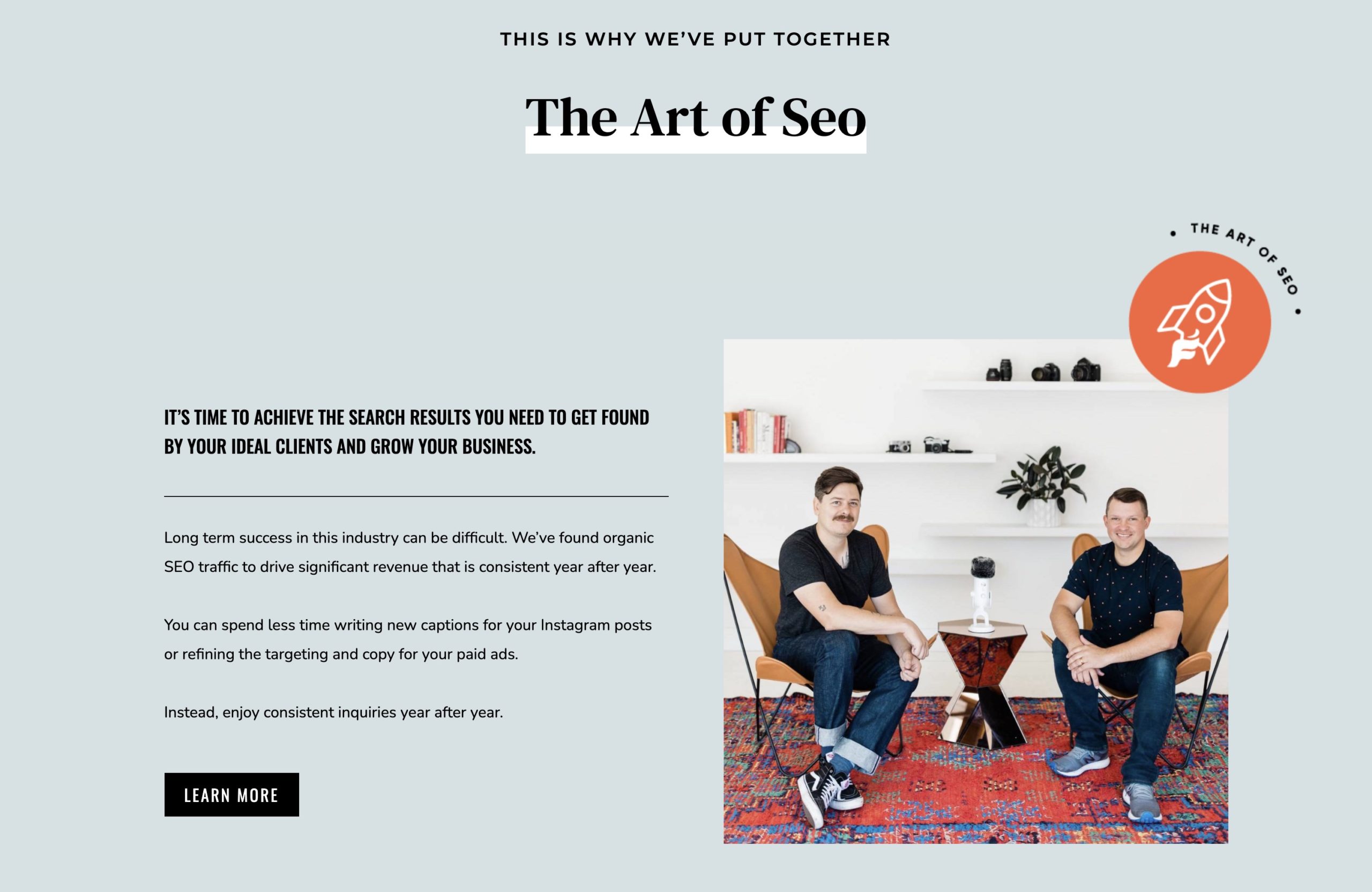 Feeling overwhelmed and not even sure what half of the above topics even mean? I didn't use to either but that changed when I took the amazing course by Corey Potter and Dylan Howell aka Fuel Your Photos. Their SEO for Photographers and Blogging courses and the linked Facebook group has taught me so much. And even better, it actually gets results. After implementing what I learned in this course I booked a bucket list elopement in Norway within just a couple of month, making the money I spent back and then some.
I've taken a few other webinars and courses on SEO and none of them come even close to this. Honestly, even if you're not a photographer, I would actually recommend this course because there is so much valuable information that could easily be adapted to a wedding videography or planning business.

SIGN UP TO THE COURSE
Photo SEO Lab
Karen at Photo SEO Lab is your go-to woman if you want someone who can go into the back end of your website and actually do the work with you, whilst talking you through the whole process so you understand what is being done and why. No more blindly paying so-called "SEO experts" and having no idea what they are doing. You can work with Karen to decide what you want to rank for and she'll help you get found for those search terms.
Use the code: adventureweddingacademy for a 5% discount
Yoast Academy
I couldn't write a blog post on SEO and not include Yoast. It's an absolute must-have WordPress Plugin. But if you're just getting started, their website has some great free learning resources. Would I recommend this over a paid course? Even though it's free. It can get overwhelming extremely fast as there is so much information here, and honestly, there's a lot that you really don't need to know at the start.
Shop SEO Tools
Save this post
Related Posts