Disclaimer - This website contains affiliate links. I earn a very small commission if you make a purchase using my links, which I'll probably spend on outdoor gear and more houseplants.
Whether you are just starting your elopement business or transitioning to elopements after many years of traditional weddings, one of the most important things you'll need if you want to book more elopements is a portfolio of elopement styled shoots. And whilst attending workshops with a styled shoot aspect, such as the ones I run through the Adventure Wedding Academy, I believe some of the best experience comes from when you organize your own. The great thing about an elopement styled shoot is you don't really need much. All you really need is a couple who is down for an adventure and depending on the couple, possibly an elopement dress (or two). Once you've got those sorted, you're ready to create your styled shoot.
Buying vs Renting a Wedding Dress for a Styled Shoot
Why should you buy a dress instead of borrowing or renting one? This definitely comes down to personal preference. There are some great dress rental options out there which I'll mention below. There is also the option to collaborate with designers or bridal stores, however, depending on what you have planned, this could be a bit risky. For a previous workshop, I had a collaboration planned with a designer who was going to loan me a dress. However, they wanted a guarantee that the dress would be returned without any damage and that any cleaning required would be billed back to me. Since I was shooting a hiking elopement styled shoot and there had been some snow, I knew there was a chance the dress would get wet and possibly dirty. For me personally, I didn't want to take that risk with someone else's property. So instead, I choose to use one of my own cheaply bought dresses that I wasn't afraid to damage or put in the washing machine afterwards.
Renting A Dress
If you want to rent a dress, there are a few options. Some Etsy designers offer dress rentals, as well as a few photographers who rent out dresses they have purchased in the past. When you rent a dress, make sure you check who pays for shipping and cleaning. You'll also want to check what the deal is if the dress gets damaged while it's in your care.
My favourite if you are looking for a luxury bohemian dress but don't want to buy one, is We Are Reclamation. One of the most popular Etsy designers on the boho scene has a number of designers that you can rent as part of their "Traveling Dress Collective". They are based in Canada, but they have a number of dresses available in the US for shoots too. A great thing about these dresses is their flexible sizing.
Buying A Dress
You don't need to spend thousands on a designer wedding dress now in order to have a dress for an elopement styled shoot. In fact, there are a number of places where you can get great dresses that will look amazing in photos for under $500, often much much less. I've actually collected a number of cheap dresses over the last few years so that I've got a selection of styles and sizes available.
When it comes to buying a dress, there are a number of options out there. Here are some of my favourites, as well as some favourites from the elopement photography community:
Top Places To Buy Elopement Dresses for Styled Shoots:
Lulus is a super popular one with photographers and brides on a budget for dresses for elopements and styled shoots. You can pick up a dress for under $250.
Lulus are a US-based site, but ship worldwide. I've bought a number of dresses from them, and I've also shot a number of real elopements with Lulus dresses. But don't just take my word for it. Here are some awesome examples of Lulus dresses in action from photographers from around the world:
Search White Maxi Dress on Amazon and you'll be presented with loads of options of cheap dresses that can work well for a styled elopement shoot. While many of these dresses are very cheap, at under $100, they still look pretty good in photos as these pictures from the community demonstrate.
ASOS is a great option no matter where in the world you live, as they have international websites. In recent years they've introduced a bridal section, but you can also just search maxi dresses too and sort by color.
There are only a few dresses under $500 in the main selection, but if you're lucky you can find some great bargains in the sale section under $300.
If you're looking for something a little more traditional, check out the sales from David's bridal. You can get some pretty huge reductions in their outlet store.
There are a number of Etsy designers from around the world that are making dresses that are perfect for elopements, and for all different kinds of budgets. Here are just a few of the ones that have caught my attention for dresses under $500:
Bride2Be (Images pictured below)
This is slightly pricier option but if you are someone who does a lot of styled shoots then you might still want to consider one of these dresses as they are super flexible in their sizing, as one size is designed to fit all.
IVY & OAK offers a complete assortment of timeless, high-quality fashion out of sustainable, mostly Europe-based production.
A US-based website, Morning Lavender has some great options under $100 for simple, elegant elopement style dresses in cream/ivory tones. They also have a lovely selection of skirts and tops if you're looking for a two-piece outfit and have some beautiful colour and fabric options such as velvet and sequin dresses too.

Use the code HELLOBEAUTIFUL for 10% off your first order.
Super stylish bridal dresses and jumpsuits from UK-based company Pretty Lavish Bridal come in at under £150, with some real bargains to be found in the sales.
Pre-loved Dresses
If you're concerned about sustainability, you could consider a pre-owned wedding dress instead of buying something new. Here are some of the best places to buy pre-loved wedding dresses online: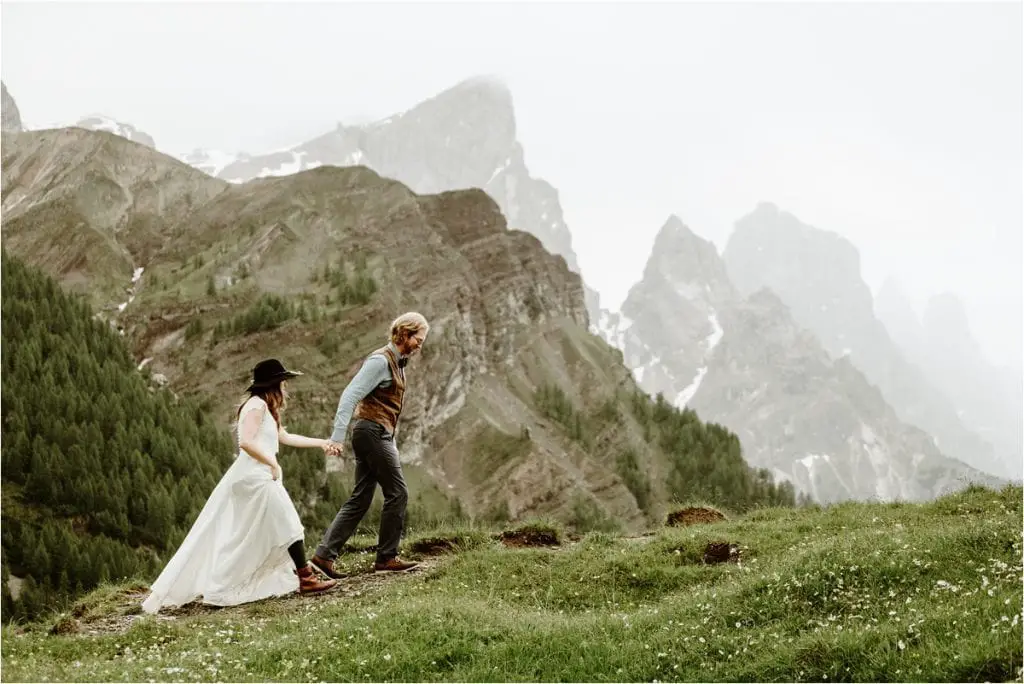 Vintage and pre-loved fashion from popular e-commerce brand ASOS.
Related Posts