Disclaimer - This website contains affiliate links. I earn a very small commission if you make a purchase using my links, which I'll probably spend on outdoor gear and more houseplants.
Disclosure: This post may contain affiliate links, meaning I earn a commission if you decide to make a purchase through my links, at no cost to you.
At the end of 2020, Fujifilm asked me to write an article for them about the gear that I use to photograph adventure weddings and elopements. And since I get asked a lot about the best camera and lenses for elopement photography, I felt it was time to write a blog post on here the topic too.
Which Camera Is Best For Elopement Photographers?
I want to start this post with by saying that I am a Fujifilm X-Photographer, which means I'm an ambassador for Fujifilm. Since 2019, I only shoot with Fujifilm cameras and lenses. You might think that I'm paid by Fujifilm or given their camera gear for free in order to say they are the best. But the truth is, I've paid for all of my gear, and I owned it all before I became an ambassador. With Fujifilm (I can't speak for other camera brands), it's important to them that their photographers use their equipment because they believe in it. Not because they get given it for free. Of course, there are perks to being an X-Photographer, which I'll happily write about in another post.
Everything I'll talk about in this post, and every piece of gear I recommend, it's because I've purchased it myself, and I use it myself, and I believe it's some of the best camera gear out there for elopement photography.
If you just want to know specifically which camera body and lenses I use, and you're not really bothered about why I switched from Canon to Fujifilm, skip to the end of this article for the full list of what's in my gear bag.
Should I Buy A DSLR or Mirrorless Camera?
For the first 3.5 years in business I was a Canon photographer. I had multiple DSLR bodies, and a selection of prime and zoom lenses. The images that gear was producing were great. My main complaint was the weight of it all. There is no denying that you'll produce great images with a DSLR. But if your goal is to shoot adventure weddings and elopements, you might find a DSLR feels like a burden when you're carrying that extra weight around.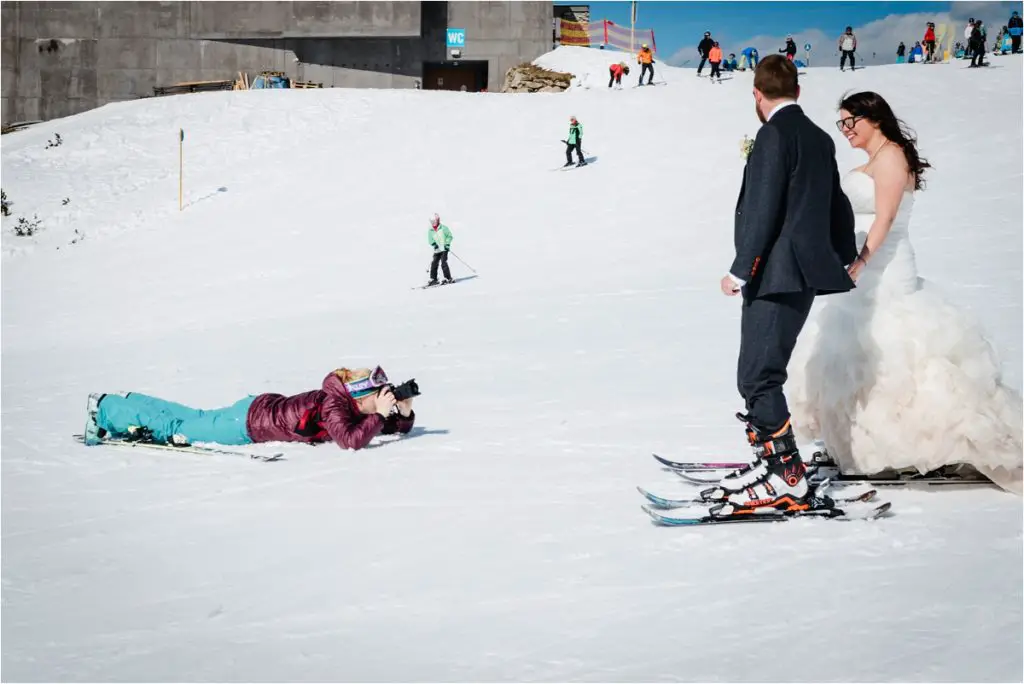 Pros of a DSLR
– Longer battery life
– Larger selection on lenses
– Optical viewfinder
– Faster autofocus (generally)
– Durability
Cons of a DSLR
– Heavy & bulky camera body
– Heavy & bulky lenses
In the last few years there has been so many advances on the mirrorless camera scene, that in 2021 a pro-spec mirrorless camera from any of the main manufacturers will be more than capable of taking professional quality images. However, for me personally, the pros outweighed the cons.
Pros of Mirrorless
– Lighter & more compact body
– Lighter & more compact lenses
– Silent shutter
– Better video capabilities
– Electronic viewfinder (also a con, depending on your preferences)
Cons of Mirrorless
– Shorter battery life
– Smaller lens selection
– Electronic viewfinder (also a pro, depending on your preferences)
Do I Need A Full Frame Sensor For Elopement Photography?
When you're learning to be a wedding photographer, everywhere you're told that you need to have a full frame sensor if you're shooting in dark venues and working in low light conditions. And it's true that full frame sensors perform better in low light conditions. But APS-C (cropped-sensor) cameras can actually handle low-light pretty darn well too.
All of the Fujifilm X models are actually cropped sensor, and I was a little hesitant when I made the switch from Canon, but in reality, I barely noticed a difference, except when looking closely in Lightroom on images where I had to shoot with a really high ISO. And in reality, you clients aren't going to look at the images with the same critical eye that you would, or zoomed in to 300% on a Retina display 😉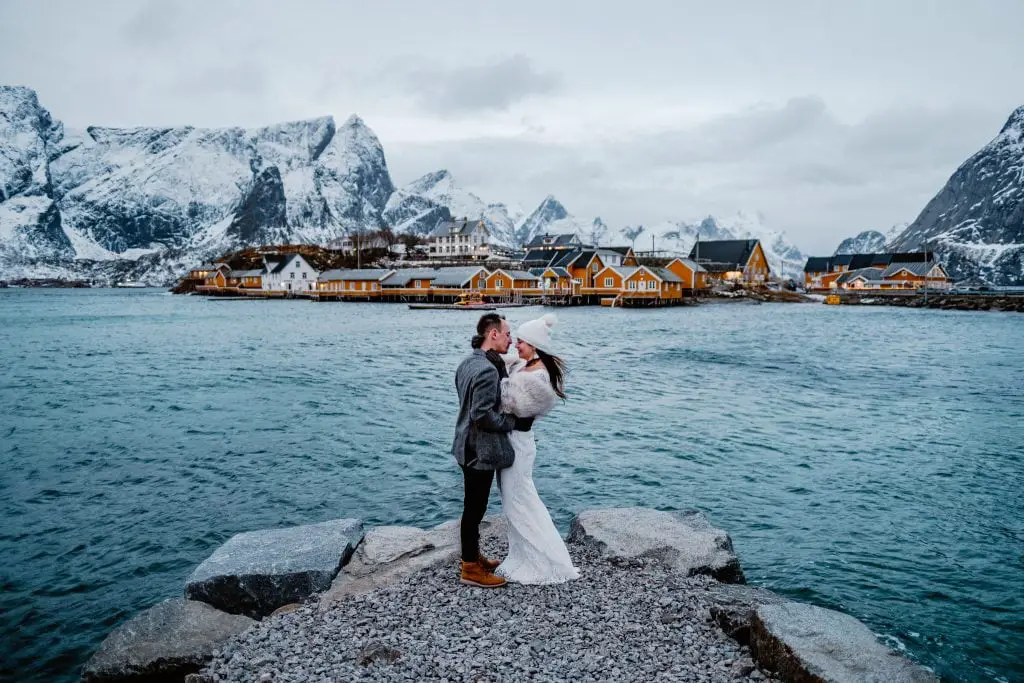 Why I Switched From Canon To Fujifilm
There were a few reasons why I made the decision to switch from Canon to Fujifilm. At the time, I had picked up an X-T2 as a small camera for personal use to take hiking, and slowly I started using it more often. After using it at a couple of weddings as my 2nd body, I quickly added a second Fuji body and went full Fujifilm.
When Canon brought out their mirrorless camera, a few people asked if I would switch back since I still owned some expensive Canon glass, but my answer was no. The Canon mirrorless camera was a smaller body, but the lenses for it were still huge, and my existing lenses were also huge and heavy. I love my small, compact Fuji system and I can't imagine myself shooting anything else.
The decision to make Fujifilm (as opposed to another mirrorless camera) my main camera brand was for the following reasons:
The Fuji camera felt great in my hands. I find them fun and intuitive to use. No searching in menus to change settings. All the important buttons are right there – and you can operate them wearing gloves! I didn't have the same experience with Sony when I tested one.
The Fuji cameras and also the lenses are extremely lightweight & compact.
Fuji gear isn't as expensive as it's main competitors, Canon, Sony and Nikon, so the cost of changing system wasn't too high.
The colours from Fujifilm are beautiful straight out of camera.
I did not notice a drop in image quality moving from Canon full-frame to Fujifilm, and my body was taking less strain carrying less weight at each wedding.
Because the gear is cheaper, my camera insurance payments also reduced (maybe this isn't a reason to switch but it's a bonus!).
Can Mirrorless Cameras Cope With The Harsh Conditions of Adventure Elopements?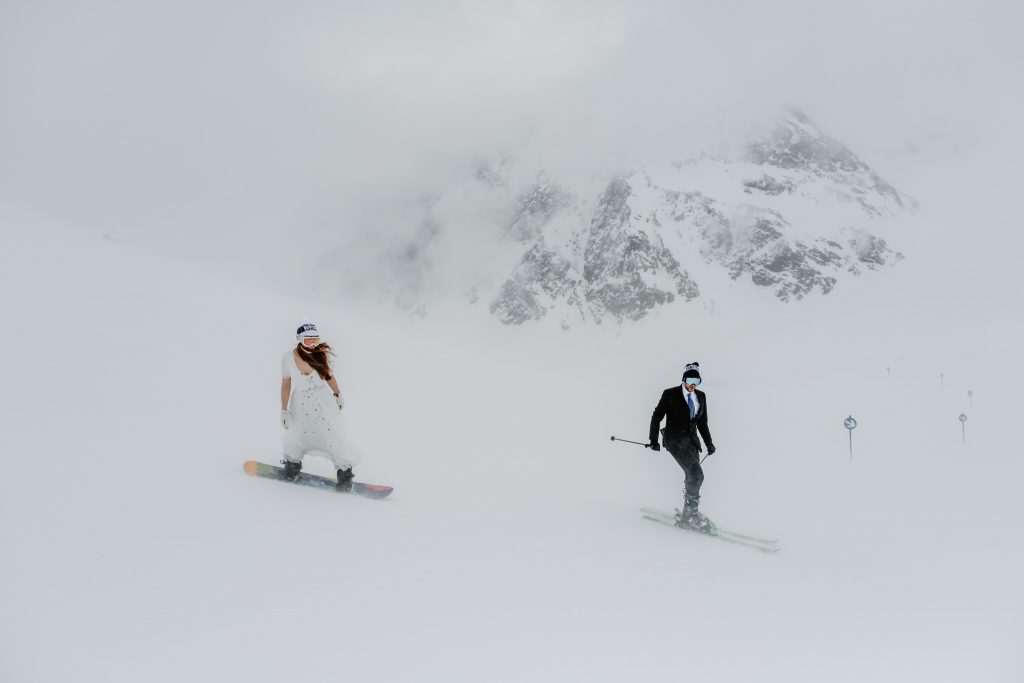 In a nutshell, yes (well at least Fuji can in my experience). DSLRs are known for being rugged cameras that will keep working in the toughest of conditions. So when I switched to Fuji I was curious to see how they would compare. I'm quite rough with my gear and I've used it in some pretty tough conditions. I've shot elopements in blizzards, one during the polar night with zero hours of sunlight, thrown them backpacks for multi-day treks and dropped them a few times (oops). And they still keep on working. So far, I've not had to repair or replace anything. Sure, in the extreme cold the batteries don't last as long, but they usually outlast the couple and my fingers on most occasions!
The Cameras & Lenses I Use For Elopements
What is the best camera body for elopements? What about the best lenses? Below is a list of my top choices: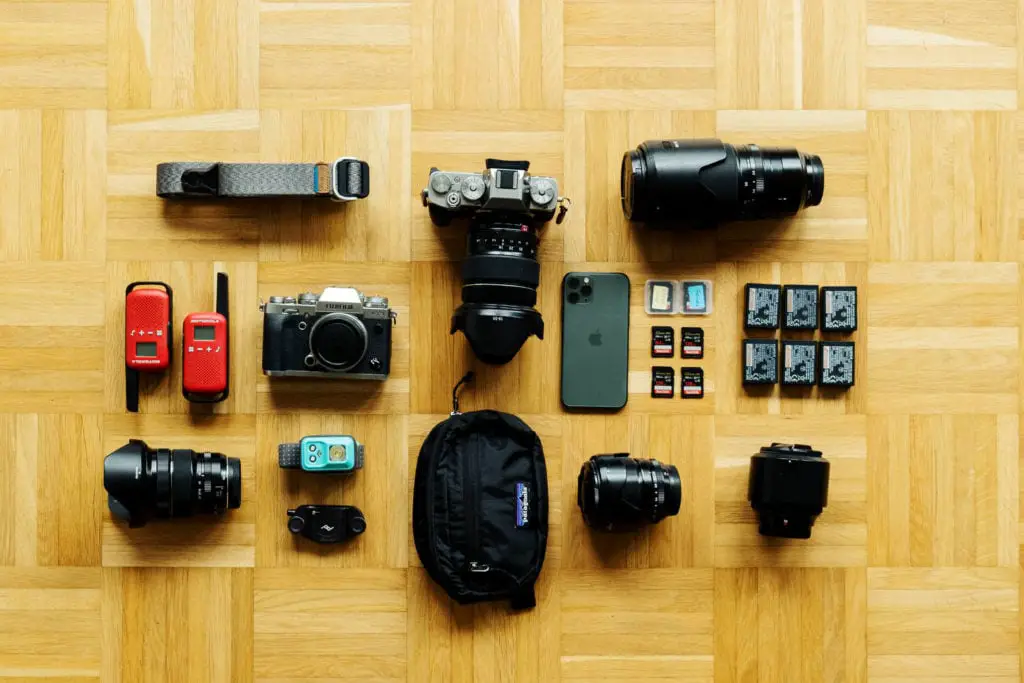 Camera Bodies
I always take two camera bodies to an elopement, just as I used to for a wedding. Because I always need to have redundancy, i.e. if one stops working, I've still got a second as a backup.
The Best Lenses For Elopement Photography
When I was shooting mainly traditional weddings, I used to shoot predominantly with prime lenses and I do still shoot with them a lot. But for a lot of my really adventurous elopements, I prefer having the flexibility of a zoom lens. In situations where I can't physically move my body, or I don't want to be changing lenses, having the flexibility of a zoom can allow me to get a range of different shots.
Zoom Lenses:
Fujinon XF 16-55mm f/2.8 (24-70 equivalent)
Check price: Park (UK) | B&H (USA) | Amazon (USA) | mpb (Worldwide)

Images captured using the above zoom lenses:
Prime Lenses
Images taken with the above prime lenses: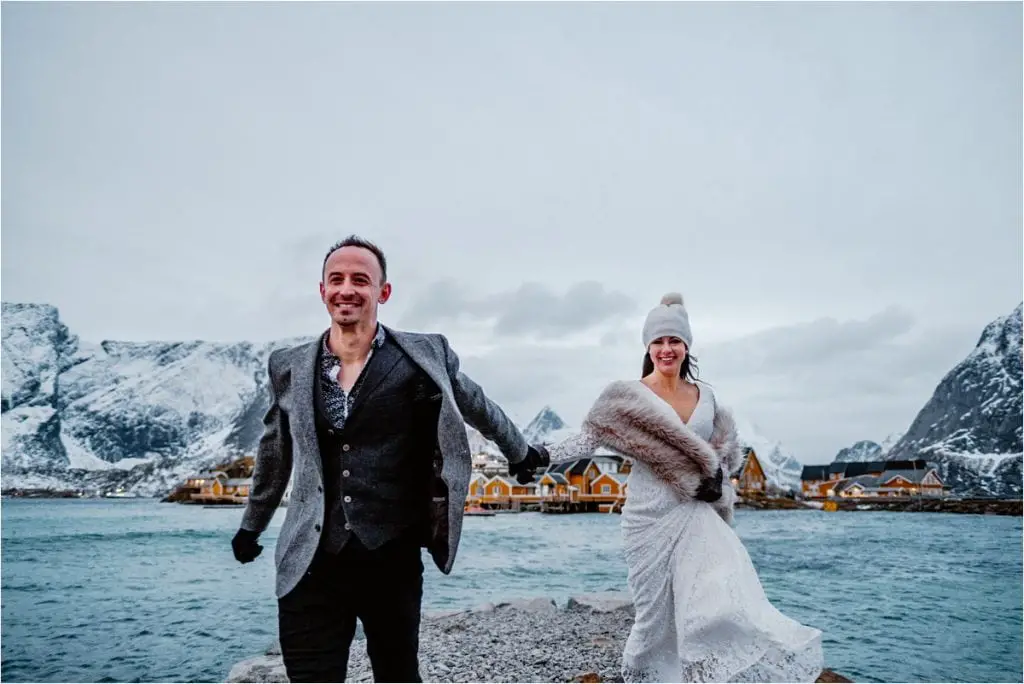 Other Elopement Photography Equipement
Depending on the location and schedule, I have a number of other items that I may take with me to elopements, as just like a wedding, I want to be prepared for any situation that might arise: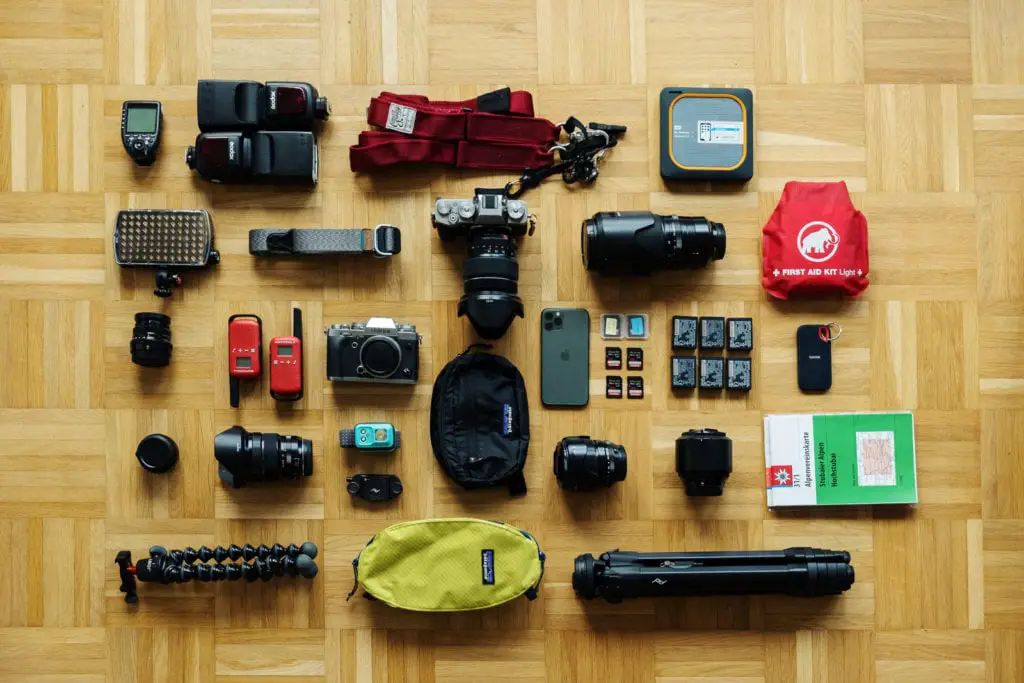 Should You Change Camera System?
If you're already invested in one system and you're 100% happy with it, then stay with it. Both DSLRs and Mirrorless cameras have their advantages and disadvantages. And honestly, it doesn't matter what camera brand you shoot with. If you choose any of the main camera brands, you'll be able to take amazing images. It's not the camera that makes the photographer!
Don't have a huge budget, or you want to test out some options before going all in, then consider renting before buying. Also, don't rule out buying used gear if your budget is limited either. I've purchased pre-owned gear from both Wex and mpb in the past and have been really pleased with the service I received.
Where should you buy your camera gear and is there any way to save some money?
Whether you are buying new or used, I do recommend buying your photography gear from an authorised dealer. New gear from an authorized dealer means it should have some protection if something doesn't work as it should. You can save some money buying foreign imports or shopping on places like eBay, but there can be risks. You may get a warranty from the seller but be aware of the risks of grey imports.

Pro Tip – Keep an eye out for trade-in or cash-back schemes that many of the major camera brands and retailers offer throughout the year.
In summary:
I believe I have found the best camera for elopement photography in my Fujifilm setup. I love the X-T3 and the combination of lenses that I use with it. At some point when my X-T3s are getting tired, I will retire them for a newer model (maybe the X-T4) but at the moment, I don't feel the need.
I've not felt a decline in quality going from full frame DSLR to cropped sensor mirrorless, and I'm just loving shooting with the Fujifilm system. It works amazingly for what I want it to do, and I've won multiple awards with it. Is it the most high-tec, high-spec setup on the market? No.
Hopefully that goes to show that you don't need the most MegaPixels or the latest model. YOU, the photographer, are the most important aspect. Your camera is just a tool that should enable you to do the job you love, which is taking epic elopement photos.
So stop obsessing over camera specs and just go with a camera that you'll enjoy taking photos with, that won't weigh you down, and will just allow you to get out there and create something awesome.
Related Posts