Best Flothemes Alternatives For Photographers
Disclaimer - This website contains affiliate links. I earn a very small commission if you make a purchase using my links, which I'll probably spend on outdoor gear and more houseplants.
Over the last years, Flothemes were perhaps the most popular brand of WordPress website templates for photographers. But with them closing their store in September 2023, they left many photographers wondering "what next" and searching for the best alternatives.
Will Flothemes Websites Still Work?
On the Flothemes blog, they reassure existing customers that websites will still work, and that existing websites will still be able to be updated as normal. However, from September 2024, there are some important things to note:
Your site will continue to run, and you will still be able to create and build your own FlexBlocks and edit any existing FlexBlocks. This is applicable for all one-time themes (Pronto, Flexthemes, and Classic themes) and for all Pronto all-in-one subscriptions.

After September 30th 2024, you will no longer be able to retrieve predefined FlexBlocks templates. If you intend to use any predefined block templates, Stylekits or page templates from the FlexBlock library, you should export them as JSON so you have them as a backup to use in the future. Please reach out to our team at [email protected] if you need any assistance with this.

Will my website break if there are any WordPress updates?

We recommend Flothemes users to continue using the below recommended WordPress and PHP versions:
– Pronto All-in-One or the Pronto theme: PHP version 8.2, WordPress 6.2.2.
– Flextheme: PHP version 7.4 – 8.0, WordPress 6.2.2.

If you do update your WordPress version, while we cannot guarantee this, your site will likely continue to work just fine. Historically, minor updates have not known to break anything on our themes, and only major version upgrades might have an impact. For reference, here are the historical timeline for major version upgrade for WordPress:
WordPress 3 → 4: 2014
WordPress 4 → 5: 2018
WordPress 5 → 6: 2022
While we do not know for certain, the next major upgrade should be 2026 or beyond. Source

https://flothemes.com/whats-next
Basically, if you don't update WordPress or any of your plugins, you should be fine for the time being. However not updating things can leave you vulnerable, and as time goes on, you may also find that your hosting stops supporting sites using older PHP versions.
With that in mind, it's probably for the best to start looking for an alternative. So what are your options?
Flothemes Alternatives
Many photographers (myself included) are now looking to move their sites away from Flothemes for piece of mind for the future.
However, deciding where to go next can be quite overwhelming. Flothemes offered photographers aesthetically beautiful website themes built on WordPress that included easy-to-use design features like "drag & drop".
So what are the best alternatives out there?
The honest answer is that it depends on what you're looking for, and to a certain degree, how you use your website for your business.
If your website is where most people find you, and SEO is one of your primary marketing strategies, then you're probably going to want to stick with WordPress and find a theme that you like and can tweak to fit your brand.
If your website acts more as a portfolio of your work, and you're less active with blogging and SEO optimization, you might be better off looking at a platform that's more focused on aesthetics and design.
Best for SEO
WordPress + Kadence
Within the Fuel Your Photos SEO membership (which I highly recommend), Corey and Dylan have advocated for websites built on WordPress. While WordPress can feel like a steep learning curve for a lot of people, especially if they've come from a "drag and drop" style builder such as Wix, it is the best solution out there for performance, and in my opinion, future proof-ing your website.
You might have noticed already that the Adventure Wedding Academy site looks different from how it did before. That's because it was also built on a Flothemes WordPress theme and I've switched to Kadence. I also use Kadence for the European Elopement Guide, and two of my personal websites Less Work More Adventure and CatEkkelboomWhite.com, and will also be using it for a new site for Wild Connections Photography.
Related reading – Best SEO Resources for Photographers
Why Kadence?
Kadence is a free WordPress theme that puts performance and accessibility at the forefront. Like Flothemes, Kadence is a block builder, allowing you the creative freedom to build your site just as you want it. It comes with a number of free starter templates but you can also build everything from scratch by yourself if you want to.
Best Kadence Themes for Photographers
While you can build your site for free using Kadence using the free templates and blocks, most people prefer to have a headstart by purchasing a "child theme" that's built on top of Kadence.
A child theme is a theme that inherits the functionality and styling of another theme, referred to as the parent theme. The purpose of a child theme is to allow you to make modifications, customizations, and additions to your WordPress websites without directly altering the code of the parent theme.
Child themes save time, and effort, and ensure a professional website design. These themes are usually created by expert developers and designers, offering polished, responsive, and mobile-friendly designs that can be customized to match individual branding preferences. By purchasing a child theme, you can skip the lengthy development process, quickly launch your website, and benefit from advanced features and functionalities without extensive coding knowledge.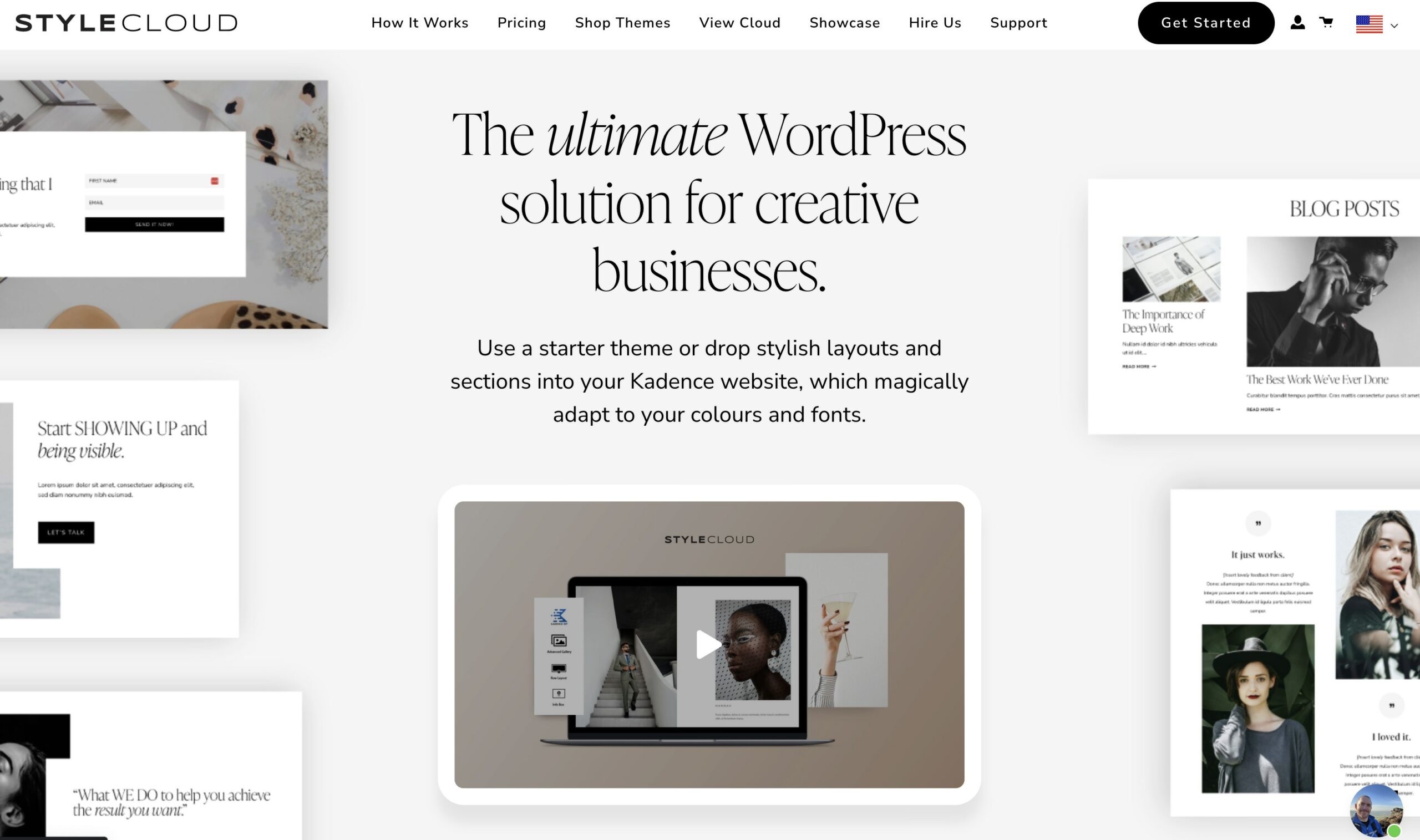 StyleCloud
Melissa from The Design Space has been creating themes for photographers for as long as I can remember. Her beautiful templates are available for Divi, Elementor, ProPhoto, and of course Kadence. If you're looking for a similar aesthetic to Flothemes, you'll love Melissa's designs.
But she's not only created themes for Kadence. She's created something called StyleCloud. StyleCloud allows you the flexibility to start with a complete theme or select individual blocks from the Kadence Cloud library to build everything completely as you want it. Love the header from one theme but the About section from another? No problem! You can simply choose the sections you want from the library. StyleCloud gives you access to stunning starter themes, 70+ page templates and 120+ versatile and beautifully-neutral sections so that you can mix and match your website to perfection. There's also an amazing free Facebook community where you get extra support and inspiration as you build your new site.
Price: $150 for a single theme, $169 StyleCloud + All Themes Annual Subscription
If you're interested in joining Style Cloud, I have an exclusive discount code for 15% off. Use the code ADVENTUREW15 to save 15%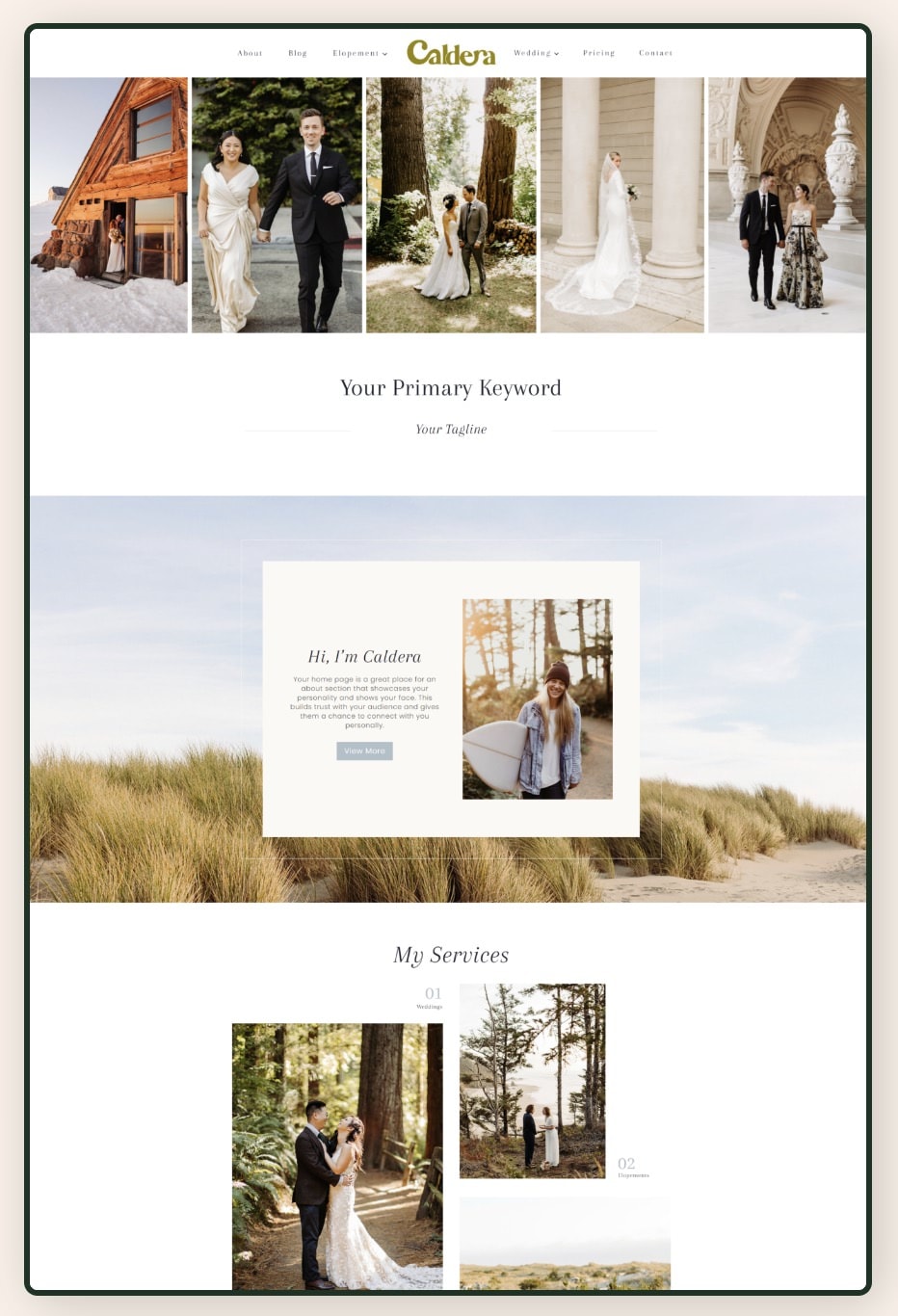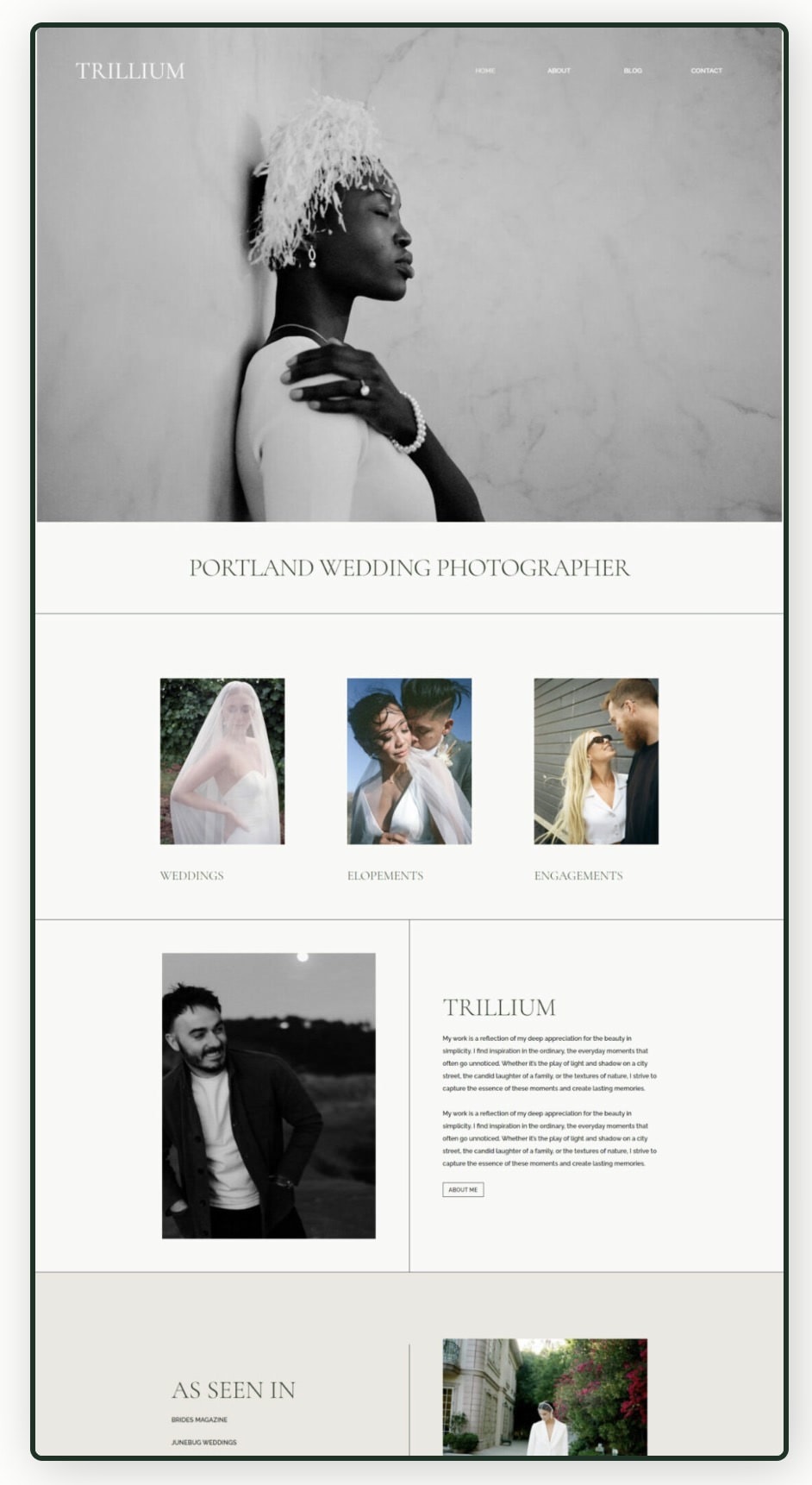 Sightsee Designs
Sightsee Designs are created by Dylan (Fuel Your Photos SEO) and his wife Jess. They are designed for photographers and are built to get you set up on the best possible foot for SEO.
Their designs follow the Fuel Your Photos course recommendations and guidelines. The templates are built using proven recipes to improve your organic rankings in search engines.
They currently have two templates available; Caldera and Trillium, but more are rumored to be in the pipeline.
Price: $150 for a single theme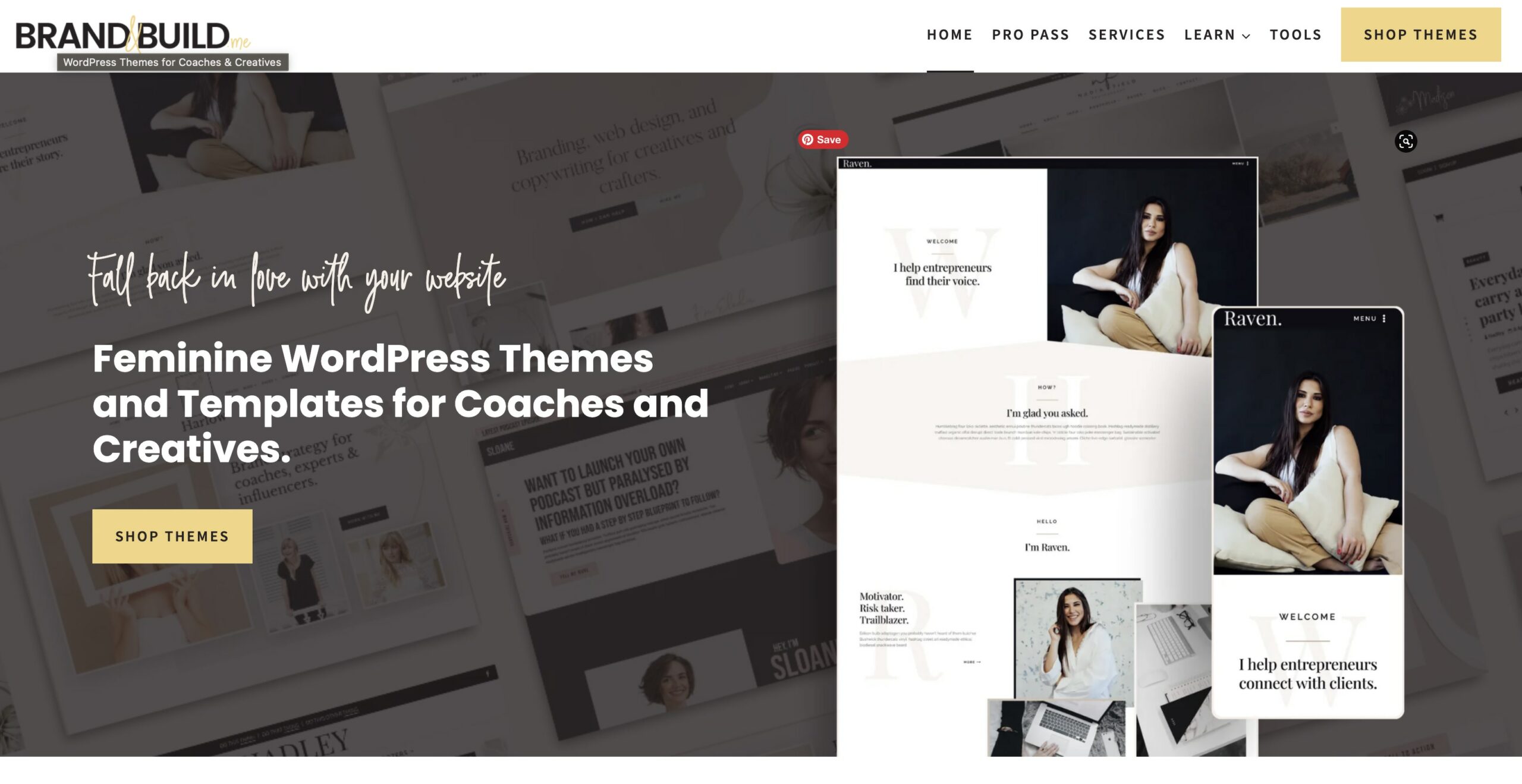 Brand & Build
Brand & Build has a number of elegant and stylish Kadence templates that are designed with photographers and creatives in mind.
Price: $165 for a single theme, $370 for an annual pass for everything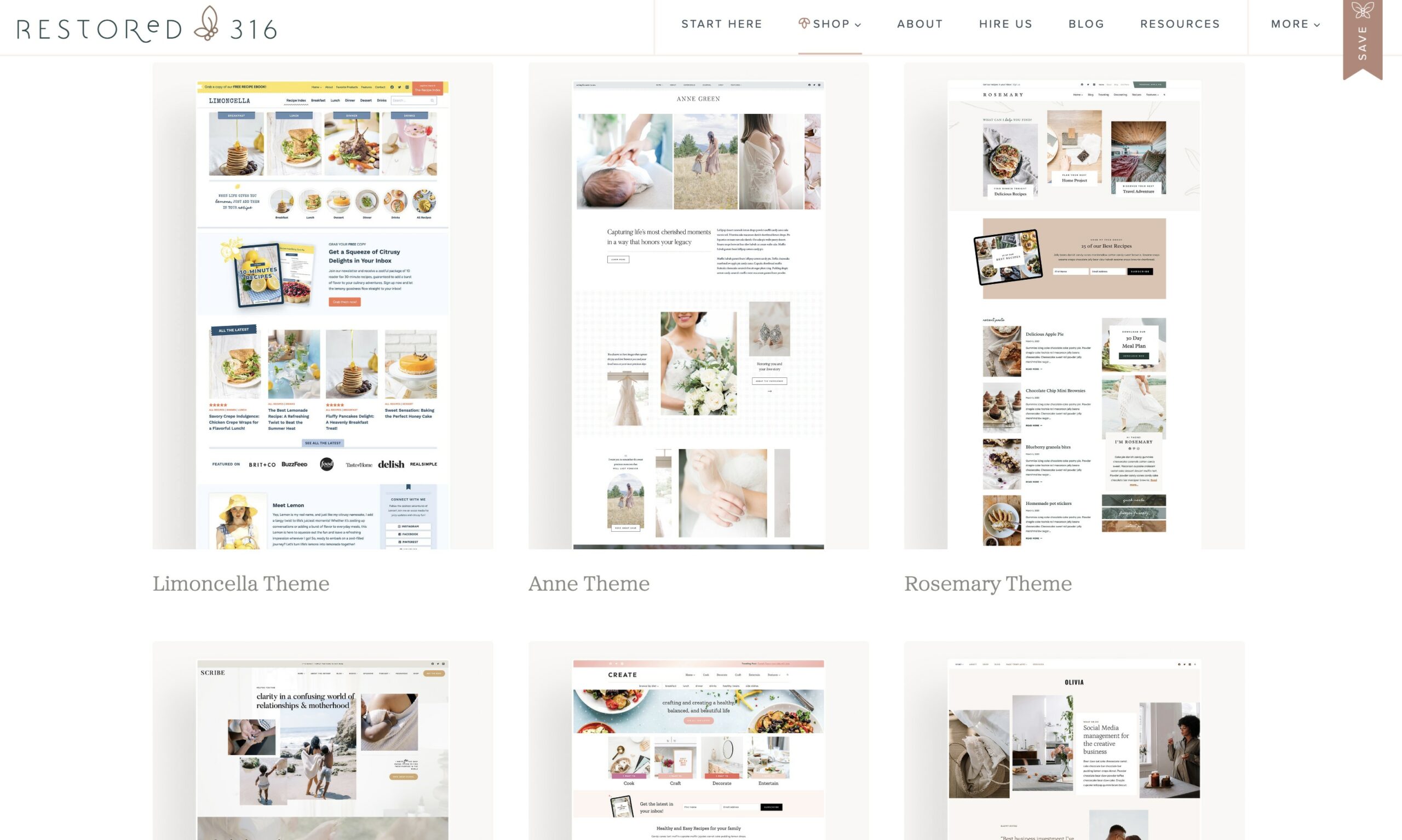 Restored 316
Restored 316 offer a number of 'feminine' themes aimed at creatives and photographers. They also offer tutorials and packages including matching Canva temples, so that you can build everything across you brand with a seamless and elegant feel.
Price: $129-199 for a single theme
What About Kadence Pro?
You don't need to have Kadence Pro to build a great website on Kadence. The free version already allows you to do so much. However, there may be some additional plugins and functions that you may want with Kadence Pro, such as advanced galleries and hooked elements. However, it is possible to find free plugins for most of these functions if you don't want to spend any money.
Price: $199 for the full Kadence Pro bundle, $799 for lifetime access
If you are considering Kadence Pro, I recommend snapping up the lifetime deal around Black Friday (that's what I did).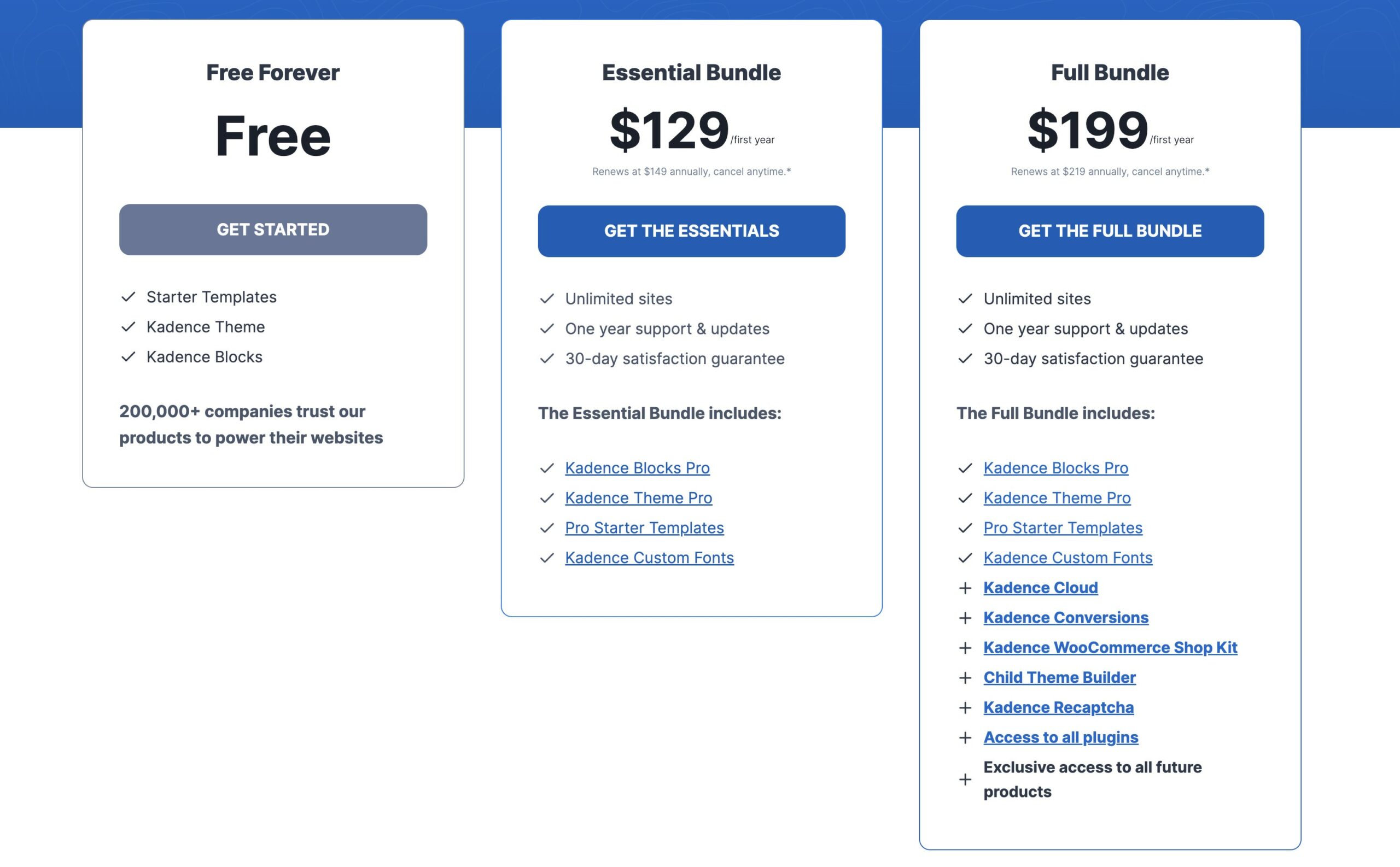 Best For Design
For some photographers, their website isn't their main source of enquiries, so SEO is less important. Instead, they want their site to simply be a visually stunning portfolio of their work. Whilst WordPress can be made to look really nice these days, there are still many photographers who want something that looks more beautiful. If that's you, then you might want to consider the following options: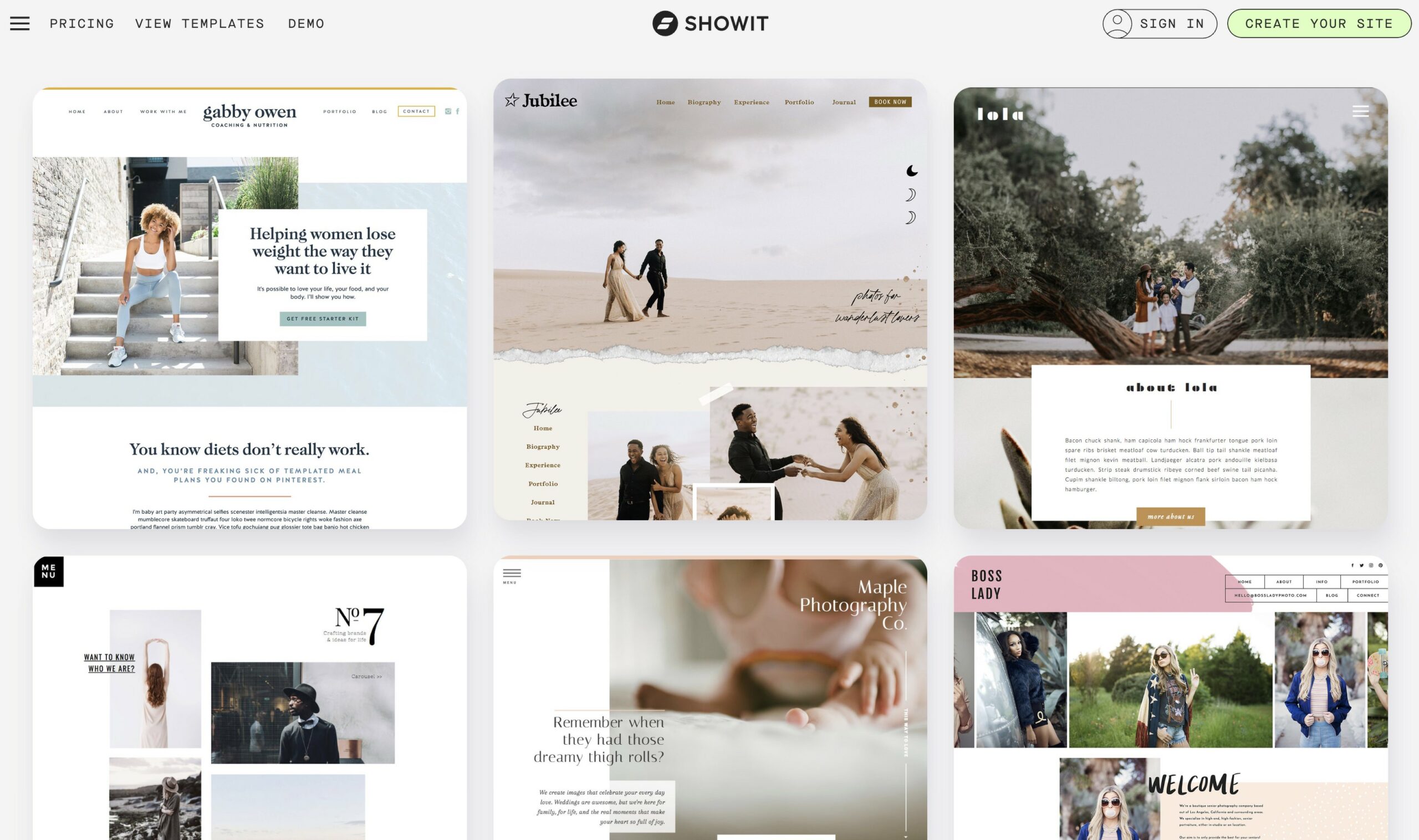 Showit
Showit is a platform for design-focused websites that also offer you the ability to use "drag & drop" to create a fully custom website exactly as you want it. There are many designers that offer custom-built Showit websites, or you can browse the shop for pre-made designs.
Are they good for SEO? While it's not impossible for a Showit site to rank in search results, that isn't the main priority of the platform, so it's not built with SEO optimization in mind.
If you plan to create a blog with Showit, there's a Showit + WordPress option.
Price: $19 a month (basic), $24 Showit + Basic Blog
Related Reading – How To Blog For SEO
Conclusion
If, like many photographers, SEO is one of your main lead generators, then sticking with WordPress and moving to Kadence, with or without an additional theme is probably the best option for you. If you want to make your Kadence site more aesthetically pleasing, then purchasing a template from one of the designers mentioned will allow you to have that combination of performance and style.